Atomic Hosts, March 18, Lucas Oil Late Models Buckeye Spring 50, then March 19, OVSCA Sprints

Atomic Speedway host the World of Outlaw Sprints, Saturday, May 28th.

Atomic Speedway, Saturday, May 28th, World Of Outlaws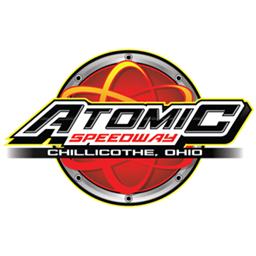 5/14/2022 - Atomic Speedway
Chillicothe, OH
Atomic MayDays with OVSCA Sprints, Steel Blocks
Atomic Speedways first MayDays Celebration. We will celebrate coming out of spring heading into summer with fun activities for the kids and fun summer give aways!! This is a sanctioned event with the Steel Block Late Model Series.
Ohio Heating 410 Sprints

17 entries

OVSCA-Ohio Valley Sprint Car Association

Kryptonite RaceCars Modifieds

20 entries

Holdren Construction Limited Late Models

17 entries

Big E's Landscaping SCDRA Sport Compacts

4 entries
Full Event Information on MyRacePass
Ohio Heating 410 Sprints
Finish
Start
#
Competitor
Hometown
+/-
1
5
22
Cole Duncan Circleville, OH
Circleville, OH
4
2
6
4S
Danny Smith Chillicothe, OH
Chillicothe, OH
4
3
4
22B
Ryan Broughton Bainbridge, OH
Bainbridge, OH
1
4
14
00H
Hunter Lynch Ostrander, OH
Ostrander, OH
10
5
11
8D
Josh Davis Chillicothe, OH
Chillicothe, OH
6
6
2
17
Reece Saldana Pittsboro, IN
Pittsboro, IN
-4
7
8
84
Cale Stinson Vandalia, OH
Vandalia, OH
1
8
13
59
Bryan Knuckles
5
9
15
7A
David Dickson Marietta, OH
Marietta, OH
6
10
17
4
Chris Smalley Waverly, OH
Waverly, OH
7
11
10
5
Ben Webb Columbus, OH
Columbus, OH
-1
12
1
99M
Ryan Myers Lewisburg, OH
Lewisburg, OH
-11
13
7
11C
Kory Crabtree West Jefferson, OH
West Jefferson, OH
-6
14
9
08
Brandon Conkel Stoutsville, OH
Stoutsville, OH
-5
15
3
99
Skylar Gee Kokomo, IN
Kokomo, IN
-12
DNS
16
83X
Nate Reeser Circleville, OH
Circleville, OH
-
DNS
12
A79
Brandon Wimmer Fairmount, IN
Fairmount, IN
-
Finish
Start
#
Competitor
Hometown
+/-
1
1
22
Cole Duncan Circleville, OH
Circleville, OH
-
2
2
99
Skylar Gee Kokomo, IN
Kokomo, IN
-
3
4
4S
Danny Smith Chillicothe, OH
Chillicothe, OH
1
4
3
11C
Kory Crabtree West Jefferson, OH
West Jefferson, OH
-1
5
6
08
Brandon Conkel Stoutsville, OH
Stoutsville, OH
1
6
7
8D
Josh Davis Chillicothe, OH
Chillicothe, OH
1
7
5
59
Bryan Knuckles
-2
8
8
7A
David Dickson Marietta, OH
Marietta, OH
-
9
9
4
Chris Smalley Waverly, OH
Waverly, OH
-
All transfer
Finish
Start
#
Competitor
Hometown
+/-
1
1
22B
Ryan Broughton Bainbridge, OH
Bainbridge, OH
-
2
3
84
Cale Stinson Vandalia, OH
Vandalia, OH
1
3
4
99M
Ryan Myers Lewisburg, OH
Lewisburg, OH
1
4
7
17
Reece Saldana Pittsboro, IN
Pittsboro, IN
3
5
8
5
Ben Webb Columbus, OH
Columbus, OH
3
6
2
A79
Brandon Wimmer Fairmount, IN
Fairmount, IN
-4
7
6
00H
Hunter Lynch Ostrander, OH
Ostrander, OH
-1
8
5
83X
Nate Reeser Circleville, OH
Circleville, OH
-3
All transfer
Finish
Start
#
Competitor
Hometown
Time
1
15
22
Cole Duncan Circleville, OH
Circleville, OH
11.429
2
3
22B
Ryan Broughton Bainbridge, OH
Bainbridge, OH
11.688
3
13
99
Skylar Gee Kokomo, IN
Kokomo, IN
11.725
4
12
A79
Brandon Wimmer Fairmount, IN
Fairmount, IN
11.727
5
6
11C
Kory Crabtree West Jefferson, OH
West Jefferson, OH
11.831
6
11
84
Cale Stinson Vandalia, OH
Vandalia, OH
11.858
7
4
4S
Danny Smith Chillicothe, OH
Chillicothe, OH
11.878
8
1
99M
Ryan Myers Lewisburg, OH
Lewisburg, OH
11.905
9
10
59
Bryan Knuckles
12.001
10
5
83X
Nate Reeser Circleville, OH
Circleville, OH
12.021
11
2
08
Brandon Conkel Stoutsville, OH
Stoutsville, OH
12.155
12
7
00H
Hunter Lynch Ostrander, OH
Ostrander, OH
12.232
13
14
8D
Josh Davis Chillicothe, OH
Chillicothe, OH
12.275
14
8
17
Reece Saldana Pittsboro, IN
Pittsboro, IN
12.676
15
9
7A
David Dickson Marietta, OH
Marietta, OH
12.738
16
17
5
Ben Webb Columbus, OH
Columbus, OH
13.062
17
16
4
Chris Smalley Waverly, OH
Waverly, OH
13.281
Kryptonite RaceCars Modifieds
Finish
Start
#
Competitor
Hometown
+/-
1
1
21X
Jason Montgomery Jackson, OH
Jackson, OH
-
2
8
21
Seth Daniels Jackson, OH
Jackson, OH
6
3
6
0
Mark Dickson Gallipolis, OH
Gallipolis, OH
3
4
5
52
Brian Whiteman New Plymouth, OH
New Plymouth, OH
1
5
7
RC10
Reed Bishop Bidwell, OH
Bidwell, OH
2
6
3
75C
Steve Clemmons Chillicothe, OH
Chillicothe, OH
-3
7
10
711
Adam Jones Chillicothe, OH
Chillicothe, OH
3
8
9
42A
Jamey Adams Laurelville, OH
Laurelville, OH
1
9
2
98
Dustin Sword Washington Courthouse, OH
Washington Courthouse, OH
-7
DNS
4
3B
Blake Sheets Waverly, OH
Waverly, OH
-
All transfer
Finish
Start
#
Competitor
Hometown
+/-
1
1
75B
Brayden Berry West Portsmouth, OH
West Portsmouth, OH
-
2
2
11
Jeremy Rayburn Lucasville, OH
Lucasville, OH
-
3
4
99
Seth Chaney Chillicothe, OH
Chillicothe, OH
1
4
3
22
Spencer Flowers Grove City, OH
Grove City, OH
-1
5
8
8
Dave Pinkerton Waverly, OH
Waverly, OH
3
6
7
D4
Dave Jamison
1
7
10
16
JD Broughton Waverly, OH
Waverly, OH
3
8
9
12
Joseph Buskirk Bainbridge, OH
Bainbridge, OH
1
9
5
18C
Miles Cook Jr Wheerlersburg, OH
Wheerlersburg, OH
-4
DNS
6
9R
J.P. Roberts Jr Gallipolis, OH
Gallipolis, OH
-
All transfer
Finish
Start
#
Competitor
Hometown
Time
1
19
21X
Jason Montgomery Jackson, OH
Jackson, OH
14.764
2
15
75B
Brayden Berry West Portsmouth, OH
West Portsmouth, OH
15.038
3
1
98
Dustin Sword Washington Courthouse, OH
Washington Courthouse, OH
15.114
4
9
11
Jeremy Rayburn Lucasville, OH
Lucasville, OH
15.204
5
20
75C
Steve Clemmons Chillicothe, OH
Chillicothe, OH
15.214
6
16
22
Spencer Flowers Grove City, OH
Grove City, OH
15.272
7
13
3B
Blake Sheets Waverly, OH
Waverly, OH
15.287
8
6
99
Seth Chaney Chillicothe, OH
Chillicothe, OH
15.303
9
2
52
Brian Whiteman New Plymouth, OH
New Plymouth, OH
15.304
10
3
18C
Miles Cook Jr Wheerlersburg, OH
Wheerlersburg, OH
15.366
11
11
0
Mark Dickson Gallipolis, OH
Gallipolis, OH
15.481
12
5
9R
J.P. Roberts Jr Gallipolis, OH
Gallipolis, OH
15.487
13
7
RC10
Reed Bishop Bidwell, OH
Bidwell, OH
15.522
14
12
D4
Dave Jamison
15.527
15
18
21
Seth Daniels Jackson, OH
Jackson, OH
15.705
16
10
8
Dave Pinkerton Waverly, OH
Waverly, OH
15.735
17
8
42A
Jamey Adams Laurelville, OH
Laurelville, OH
15.776
18
4
12
Joseph Buskirk Bainbridge, OH
Bainbridge, OH
15.986
19
14
711
Adam Jones Chillicothe, OH
Chillicothe, OH
16.003
20
17
16
JD Broughton Waverly, OH
Waverly, OH
16.116
Holdren Construction Limited Late Models
Finish
Start
#
Competitor
Hometown
+/-
1
1
5M
Zach Milbee Poca, WV
Poca, WV
-
2
2
99T
Tyler Riggs New Matamoras, OH
New Matamoras, OH
-
3
8
33B
Joe Brewer Batavia, OH
Batavia, OH
5
4
7
7
Billy Staker Portsmouth, OH
Portsmouth, OH
3
5
9
43M
Mike Sprouse Parkersburg, WV
Parkersburg, WV
4
6
10
1
Lucas Crooks Grayson, KY
Grayson, KY
4
7
6
C2
Corey DeLancey Parkersburg, WV
Parkersburg, WV
-1
8
17
46
Chris Williams Grand Rapids, OH
Grand Rapids, OH
9
9
14
01
Collin Holmes Charleston, WV
Charleston, WV
5
10
4
45
Russ Frohnapfel Columbus, OH
Columbus, OH
-6
11
16
144
Austin Seelig Millersport, OH
Millersport, OH
5
12
13
24
Jimmy Morey Bellville, OH
Bellville, OH
1
13
3
29
Clint Keenan Pataskala, OH
Pataskala, OH
-10
14
15
25
Ted Johnson Jr RUSHVILLE, OH
RUSHVILLE, OH
1
15
11
3
Thomas Baker Wooster, OH
Wooster, OH
-4
DNS
12
81M
Matt Melvin Coal Grove, OH
Coal Grove, OH
-
DNS
5
43
Dustin Sprouse Parkersburg, WV
Parkersburg, WV
-
Finish
Start
#
Competitor
Hometown
+/-
1
1
43
Dustin Sprouse Parkersburg, WV
Parkersburg, WV
-
2
2
7
Billy Staker Portsmouth, OH
Portsmouth, OH
-
3
3
43M
Mike Sprouse Parkersburg, WV
Parkersburg, WV
-
4
5
3
Thomas Baker Wooster, OH
Wooster, OH
1
5
4
24
Jimmy Morey Bellville, OH
Bellville, OH
-1
6
6
25
Ted Johnson Jr RUSHVILLE, OH
RUSHVILLE, OH
-
7
7
46
Chris Williams Grand Rapids, OH
Grand Rapids, OH
-
All transfer
Finish
Start
#
Competitor
Hometown
+/-
1
1
C2
Corey DeLancey Parkersburg, WV
Parkersburg, WV
-
2
4
33B
Joe Brewer Batavia, OH
Batavia, OH
2
3
5
1
Lucas Crooks Grayson, KY
Grayson, KY
2
4
2
81M
Matt Melvin Coal Grove, OH
Coal Grove, OH
-2
5
3
01
Collin Holmes Charleston, WV
Charleston, WV
-2
6
6
144
Austin Seelig Millersport, OH
Millersport, OH
-
All transfer
Finish
Start
#
Competitor
Hometown
Time
1
16
29
Clint Keenan Pataskala, OH
Pataskala, OH
13.873
2
8
5M
Zach Milbee Poca, WV
Poca, WV
13.887
3
14
99T
Tyler Riggs New Matamoras, OH
New Matamoras, OH
13.978
4
10
45
Russ Frohnapfel Columbus, OH
Columbus, OH
14.133
5
7
43
Dustin Sprouse Parkersburg, WV
Parkersburg, WV
14.218
6
5
C2
Corey DeLancey Parkersburg, WV
Parkersburg, WV
14.219
7
4
7
Billy Staker Portsmouth, OH
Portsmouth, OH
14.290
8
15
81M
Matt Melvin Coal Grove, OH
Coal Grove, OH
14.341
9
6
43M
Mike Sprouse Parkersburg, WV
Parkersburg, WV
14.520
10
11
01
Collin Holmes Charleston, WV
Charleston, WV
14.678
11
17
24
Jimmy Morey Bellville, OH
Bellville, OH
14.722
12
12
33B
Joe Brewer Batavia, OH
Batavia, OH
14.861
13
9
3
Thomas Baker Wooster, OH
Wooster, OH
14.920
14
3
1
Lucas Crooks Grayson, KY
Grayson, KY
15.006
15
2
25
Ted Johnson Jr RUSHVILLE, OH
RUSHVILLE, OH
15.514
16
13
144
Austin Seelig Millersport, OH
Millersport, OH
15.754
17
1
46
Chris Williams Grand Rapids, OH
Grand Rapids, OH
16.107
Big E's Landscaping SCDRA Sport Compacts
Finish
Start
#
Competitor
Hometown
Time
1
3
7
Conard Newman Frankfort, OH
Frankfort, OH
18.529
2
2
27
Darrell Newman Frankfort, OH
Frankfort, OH
18.957
3
1
123
Matt Large Bainbridge, OH
Bainbridge, OH
19.236
4
4
11
Casey Segebart VINTON, OH
VINTON, OH
19.857
All transfer