Atomic Hosts, March 18, Lucas Oil Late Models Buckeye Spring 50, then March 19, OVSCA Sprints

Atomic Speedway host the World of Outlaw Sprints, Saturday, May 28th.

Atomic Speedway, Saturday, May 28th, World Of Outlaws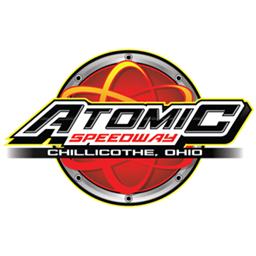 4/16/2022 - Atomic Speedway
Chillicothe, OH
USAC AMSOIL Sprints, Atomic Colossal Compacts
$6,000 - AMSOIL USAC SPRINTS
$2,500 - SCDRA/Sport Compacts
$500 - 305 Sprints
$600 - Sport Mods
NO REFUNDS!
RAIN CHECKS WILL BE HONORED WITH TIX OF SAME OF LESSER VALUE. NO REFUNDS OR CREDITS WILL BE GIVEN FOR ANY REASON WHATSOEVER.
410 Sprints - Non-Winged

20 entries

USAC National Sprint Cars

C&M Racing Equipment Sport Mods

26 entries

IMCA RaceSaver 305

24 entries

Big E's Landscaping SCDRA Sport Compacts

28 entries
Full Event Information on MyRacePass
410 Sprints - Non-Winged
Finish
Start
#
Competitor
Hometown
+/-
1
1
69
Brady Bacon Broken Arrow, OK
Broken Arrow, OK
-
2
4
12
Robert Ballou Rocklin, CA
Rocklin, CA
2
3
6
77M
C.J. Leary Greenfield, IN
Greenfield, IN
3
4
8
5S
Chase Stockon Fort Branch, IN
Fort Branch, IN
4
5
10
3R
Kyle Cummins Princeton, IN
Princeton, IN
5
6
5
5
Logan Seavey Sutter, CA
Sutter, CA
-1
7
3
4
Justin Grant Ione, CA
Ione, CA
-4
8
15
14
Jadon Rogers Worthington, IN
Worthington, IN
7
9
2
47BC
Emerson Axsom Franklin, IN
Franklin, IN
-7
10
11
5M
Jason McDougal Broken Arrow, OK
Broken Arrow, OK
1
11
9
33M
Matt Westfall Pleasant Hill, OH
Pleasant Hill, OH
-2
12
12
21
Dallas Hewitt Troy, OH
Troy, OH
-
13
14
5X
Alex Banales West Lafayette, IN
West Lafayette, IN
1
14
17
1H
Korbyn Hayslett Troy, OH
Troy, OH
3
15
7
43
Ricky Lewis Oxnard, CA
Oxnard, CA
-8
16
20
8D
Josh Davis Chillicothe, OH
Chillicothe, OH
4
17
19
1B
Keith Baxter Chillicothe, OH
Chillicothe, OH
2
18
16
5K
Kent Schmidt Owensville, IN
Owensville, IN
-2
19
13
28
Brandon Mattox Cory, IN
Cory, IN
-6
20
18
7
Austin Graby Lebanon, PA
Lebanon, PA
-2
Finish
Start
#
Competitor
Hometown
+/-
1
6
77M
C.J. Leary Greenfield, IN
Greenfield, IN
5
2
5
4
Justin Grant Ione, CA
Ione, CA
3
3
1
5K
Kent Schmidt Owensville, IN
Owensville, IN
-2
4
3
5M
Jason McDougal Broken Arrow, OK
Broken Arrow, OK
-1
5
4
5S
Chase Stockon Fort Branch, IN
Fort Branch, IN
-1
6
2
5X
Alex Banales West Lafayette, IN
West Lafayette, IN
-4
7
7
1B
Keith Baxter Chillicothe, OH
Chillicothe, OH
-
Finish
Start
#
Competitor
Hometown
+/-
1
2
43
Ricky Lewis Oxnard, CA
Oxnard, CA
1
2
4
33M
Matt Westfall Pleasant Hill, OH
Pleasant Hill, OH
2
3
3
21
Dallas Hewitt Troy, OH
Troy, OH
-
4
5
47BC
Emerson Axsom Franklin, IN
Franklin, IN
1
5
6
5
Logan Seavey Sutter, CA
Sutter, CA
1
6
1
1H
Korbyn Hayslett Troy, OH
Troy, OH
-5
7
7
8D
Josh Davis Chillicothe, OH
Chillicothe, OH
-
Finish
Start
#
Competitor
Hometown
+/-
1
6
12
Robert Ballou Rocklin, CA
Rocklin, CA
5
2
5
69
Brady Bacon Broken Arrow, OK
Broken Arrow, OK
3
3
2
14
Jadon Rogers Worthington, IN
Worthington, IN
-1
4
4
3R
Kyle Cummins Princeton, IN
Princeton, IN
-
5
3
28
Brandon Mattox Cory, IN
Cory, IN
-2
6
1
7
Austin Graby Lebanon, PA
Lebanon, PA
-5
Finish
Start
#
Competitor
Hometown
Time
1
15
77M
C.J. Leary Greenfield, IN
Greenfield, IN
12.862
2
8
5
Logan Seavey Sutter, CA
Sutter, CA
12.949
3
14
12
Robert Ballou Rocklin, CA
Rocklin, CA
12.979
4
2
4
Justin Grant Ione, CA
Ione, CA
12.982
5
11
47BC
Emerson Axsom Franklin, IN
Franklin, IN
13.023
6
3
69
Brady Bacon Broken Arrow, OK
Broken Arrow, OK
13.088
7
9
5S
Chase Stockon Fort Branch, IN
Fort Branch, IN
13.197
8
18
33M
Matt Westfall Pleasant Hill, OH
Pleasant Hill, OH
13.227
9
10
3R
Kyle Cummins Princeton, IN
Princeton, IN
13.279
10
12
5M
Jason McDougal Broken Arrow, OK
Broken Arrow, OK
13.283
11
17
21
Dallas Hewitt Troy, OH
Troy, OH
13.544
12
5
28
Brandon Mattox Cory, IN
Cory, IN
13.620
13
16
5X
Alex Banales West Lafayette, IN
West Lafayette, IN
13.700
14
1
43
Ricky Lewis Oxnard, CA
Oxnard, CA
13.727
15
19
14
Jadon Rogers Worthington, IN
Worthington, IN
13.784
16
20
5K
Kent Schmidt Owensville, IN
Owensville, IN
13.855
17
4
1H
Korbyn Hayslett Troy, OH
Troy, OH
14.079
18
7
7
Austin Graby Lebanon, PA
Lebanon, PA
14.225
19
6
1B
Keith Baxter Chillicothe, OH
Chillicothe, OH
14.668
20
13
8D
Josh Davis Chillicothe, OH
Chillicothe, OH
14.676
C&M Racing Equipment Sport Mods
Finish
Start
#
Competitor
Hometown
+/-
1
2
3P
Kyle Payne Chillicothe, OH
Chillicothe, OH
1
2
3
9K
Kevin Wills Chillicothe, OH
Chillicothe, OH
1
3
9
5
Landon Barker Chillicothe, OH
Chillicothe, OH
6
4
4
26
Gary Griffith Hillsboro, OH
Hillsboro, OH
-
5
1
13
Adam Jordan South Webster, OH
South Webster, OH
-4
6
5
10P
Cody Price Jackson, OH
Jackson, OH
-1
7
6
42A
Jamey Adams Laurelville, OH
Laurelville, OH
-1
8
12
13J
Luke Jordan South Webster, OH
South Webster, OH
4
9
7
601
Joshua Harrington Chillicothe, OH
Chillicothe, OH
-2
10
15
23
Bob Crace Chillicothe, OH
Chillicothe, OH
5
11
10
9F
Dave Jamison
-1
12
13
33
Gary Park Chillicothe, OH
Chillicothe, OH
1
13
11
73
Tonka Harris Beaver, OH
Beaver, OH
-2
14
19
M17
Matt Stewart Wellston, OH
Wellston, OH
5
15
8
711
Adam Jones Chillicothe, OH
Chillicothe, OH
-7
16
20
2S
Michael Stevens Waverly, OH
Waverly, OH
4
17
17
17
Nick McNichols Ray, OH
Ray, OH
-
18
14
11
Brandon Colley Minford, OH
Minford, OH
-4
19
18
11S
Sterling Packer New Albany, OH
New Albany, OH
-1
20
16
8
Chris Hopkins Waverly, OH
Waverly, OH
-4
Finish
Start
#
Competitor
Hometown
+/-
1
1
M17
Matt Stewart Wellston, OH
Wellston, OH
-
2
7
2S
Michael Stevens Waverly, OH
Waverly, OH
5
Top 2 transfer
3
5
30-30
Camden Houser Chillicothe, OH
Chillicothe, OH
2
4
2
95
Chris Jenkins Waverly, OH
Waverly, OH
-2
5
6
51A
Davey Akers Welston, OH
Welston, OH
1
Finish
Start
#
Competitor
Hometown
+/-
1
1
13
Adam Jordan South Webster, OH
South Webster, OH
-
2
2
26
Gary Griffith Hillsboro, OH
Hillsboro, OH
-
3
4
601
Joshua Harrington Chillicothe, OH
Chillicothe, OH
1
4
3
9F
Dave Jamison
-1
5
5
33
Gary Park Chillicothe, OH
Chillicothe, OH
-
6
7
8
Chris Hopkins Waverly, OH
Waverly, OH
1
Top 6 transfer
7
6
M17
Matt Stewart Wellston, OH
Wellston, OH
-1
8
8
56D
Bryant Dillon South Salem, OH
South Salem, OH
-
9
9
2S
Michael Stevens Waverly, OH
Waverly, OH
-
Finish
Start
#
Competitor
Hometown
+/-
1
1
3P
Kyle Payne Chillicothe, OH
Chillicothe, OH
-
2
2
10P
Cody Price Jackson, OH
Jackson, OH
-
3
5
711
Adam Jones Chillicothe, OH
Chillicothe, OH
2
4
6
73
Tonka Harris Beaver, OH
Beaver, OH
2
5
3
11
Brandon Colley Minford, OH
Minford, OH
-2
6
9
17
Nick McNichols Ray, OH
Ray, OH
3
Top 6 transfer
7
8
95
Chris Jenkins Waverly, OH
Waverly, OH
1
8
7
30-30
Camden Houser Chillicothe, OH
Chillicothe, OH
-1
9
4
16
JD Broughton Waverly, OH
Waverly, OH
-5
Finish
Start
#
Competitor
Hometown
+/-
1
1
9K
Kevin Wills Chillicothe, OH
Chillicothe, OH
-
2
2
42A
Jamey Adams Laurelville, OH
Laurelville, OH
-
3
5
5
Landon Barker Chillicothe, OH
Chillicothe, OH
2
4
4
13J
Luke Jordan South Webster, OH
South Webster, OH
-
5
3
23
Bob Crace Chillicothe, OH
Chillicothe, OH
-2
6
6
11S
Sterling Packer New Albany, OH
New Albany, OH
-
Top 6 transfer
7
7
62
Jeff Conrad Chillicothe, OH
Chillicothe, OH
-
8
8
51A
Davey Akers Welston, OH
Welston, OH
-
Finish
Start
#
Competitor
Hometown
Time
1
5
13
Adam Jordan South Webster, OH
South Webster, OH
16.107
2
20
3P
Kyle Payne Chillicothe, OH
Chillicothe, OH
16.123
3
11
9K
Kevin Wills Chillicothe, OH
Chillicothe, OH
16.243
4
2
26
Gary Griffith Hillsboro, OH
Hillsboro, OH
16.261
5
9
10P
Cody Price Jackson, OH
Jackson, OH
16.280
6
14
42A
Jamey Adams Laurelville, OH
Laurelville, OH
16.365
7
9F
Dave Jamison
16.434
8
19
11
Brandon Colley Minford, OH
Minford, OH
16.470
9
23
23
Bob Crace Chillicothe, OH
Chillicothe, OH
16.500
10
16
601
Joshua Harrington Chillicothe, OH
Chillicothe, OH
16.514
11
18
16
JD Broughton Waverly, OH
Waverly, OH
16.518
12
7
13J
Luke Jordan South Webster, OH
South Webster, OH
16.530
13
8
33
Gary Park Chillicothe, OH
Chillicothe, OH
16.613
14
4
711
Adam Jones Chillicothe, OH
Chillicothe, OH
16.667
15
17
5
Landon Barker Chillicothe, OH
Chillicothe, OH
16.685
16
24
M17
Matt Stewart Wellston, OH
Wellston, OH
16.821
17
21
73
Tonka Harris Beaver, OH
Beaver, OH
16.923
18
1
11S
Sterling Packer New Albany, OH
New Albany, OH
17.066
19
22
8
Chris Hopkins Waverly, OH
Waverly, OH
17.107
20
6
30-30
Camden Houser Chillicothe, OH
Chillicothe, OH
17.198
21
13
62
Jeff Conrad Chillicothe, OH
Chillicothe, OH
17.523
22
10
56D
Bryant Dillon South Salem, OH
South Salem, OH
17.909
23
3
95
Chris Jenkins Waverly, OH
Waverly, OH
18.066
24
12
51A
Davey Akers Welston, OH
Welston, OH
18.068
25
2S
Michael Stevens Waverly, OH
Waverly, OH
18.452
26
15
17
Nick McNichols Ray, OH
Ray, OH
19.429
IMCA RaceSaver 305
Finish
Start
#
Competitor
Hometown
+/-
1
7
78
Justin Clark Hamersville, OH
Hamersville, OH
6
2
4
37
Bryce Norris Terre Haute, IN
Terre Haute, IN
2
3
6
4T
Dylan Troyer Urbana, OH
Urbana, OH
3
4
14
14S
Jacob Stickle Xenia, OH
Xenia, OH
10
5
13
33$
Shane O'Banion Avon, IN
Avon, IN
8
6
8
8C
Lewie Christian West Jefferson, OH
West Jefferson, OH
2
7
11
83
Carson Dillion Terre Haute, IN
Terre Haute, IN
4
8
1
79
Chris Miller Chillicothe, OH
Chillicothe, OH
-7
9
12
5
John Starr Hillsboro, OH
Hillsboro, OH
3
10
3
11J
James Moore Marysville, OH
Marysville, OH
-7
11
5
9K
Kyle Kruger Frankfort, OH
Frankfort, OH
-6
12
10
21G
Roman Gephart New Lebanon, OH
New Lebanon, OH
-2
13
17
51
Chase Baker Waynesville, OH
Waynesville, OH
4
14
18
16E
Caleb Erwin Marysville, OH
Marysville, OH
4
15
20
1H
Hunter Young Orient, OH
Orient, OH
5
16
15
97
Chad Hyatt Sr. Ashville, OH
Ashville, OH
-1
17
19
A79
Ashley Tackett Waverly, OH
Waverly, OH
2
18
2
00H
Michael Helterbran Cable, OH
Cable, OH
-16
19
9
17P
Austin Powell Wilmington, OH
Wilmington, OH
-10
20
16
319
Steve Watts Nevada, OH
Nevada, OH
-4
Finish
Start
#
Competitor
Hometown
+/-
1
1
A79
Ashley Tackett Waverly, OH
Waverly, OH
-
2
4
1H
Hunter Young Orient, OH
Orient, OH
2
Top 2 transfer
3
5
23J
Jordan Welch Clayton, IN
Clayton, IN
2
4
6
C31
Brad Graves Londondary, OH
Londondary, OH
2
5
3
7K
Dawson Knaul Marysville, OH
Marysville, OH
-2
6
2
40
Tadd Clary Chllicothe, OH
Chllicothe, OH
-4
Finish
Start
#
Competitor
Hometown
+/-
1
2
00H
Michael Helterbran Cable, OH
Cable, OH
1
2
3
79
Chris Miller Chillicothe, OH
Chillicothe, OH
1
3
1
78
Justin Clark Hamersville, OH
Hamersville, OH
-2
4
4
21G
Roman Gephart New Lebanon, OH
New Lebanon, OH
-
5
5
33$
Shane O'Banion Avon, IN
Avon, IN
-
6
6
319
Steve Watts Nevada, OH
Nevada, OH
-
Top 6 transfer
7
7
A79
Ashley Tackett Waverly, OH
Waverly, OH
-
8
8
1H
Hunter Young Orient, OH
Orient, OH
-
Finish
Start
#
Competitor
Hometown
+/-
1
1
11J
James Moore Marysville, OH
Marysville, OH
-
2
6
9K
Kyle Kruger Frankfort, OH
Frankfort, OH
4
3
4
8C
Lewie Christian West Jefferson, OH
West Jefferson, OH
1
4
3
83
Carson Dillion Terre Haute, IN
Terre Haute, IN
-1
5
5
14S
Jacob Stickle Xenia, OH
Xenia, OH
-
6
7
51
Chase Baker Waynesville, OH
Waynesville, OH
1
Top 6 transfer
7
8
40
Tadd Clary Chllicothe, OH
Chllicothe, OH
1
DNS
2
23J
Jordan Welch Clayton, IN
Clayton, IN
-
Finish
Start
#
Competitor
Hometown
+/-
1
1
4T
Dylan Troyer Urbana, OH
Urbana, OH
-
2
6
37
Bryce Norris Terre Haute, IN
Terre Haute, IN
4
3
2
17P
Austin Powell Wilmington, OH
Wilmington, OH
-1
4
3
5
John Starr Hillsboro, OH
Hillsboro, OH
-1
5
7
97
Chad Hyatt Sr. Ashville, OH
Ashville, OH
2
6
4
16E
Caleb Erwin Marysville, OH
Marysville, OH
-2
Top 6 transfer
7
8
7K
Dawson Knaul Marysville, OH
Marysville, OH
1
8
5
C31
Brad Graves Londondary, OH
Londondary, OH
-3
Finish
Start
#
Competitor
Hometown
Time
1
22
78
Justin Clark Hamersville, OH
Hamersville, OH
12.867
2
20
11J
James Moore Marysville, OH
Marysville, OH
13.136
3
14
4T
Dylan Troyer Urbana, OH
Urbana, OH
13.272
4
24
00H
Michael Helterbran Cable, OH
Cable, OH
13.278
5
15
23J
Jordan Welch Clayton, IN
Clayton, IN
13.313
6
19
17P
Austin Powell Wilmington, OH
Wilmington, OH
13.382
7
4
79
Chris Miller Chillicothe, OH
Chillicothe, OH
13.413
8
11
83
Carson Dillion Terre Haute, IN
Terre Haute, IN
13.419
9
3
5
John Starr Hillsboro, OH
Hillsboro, OH
13.457
10
17
21G
Roman Gephart New Lebanon, OH
New Lebanon, OH
13.475
11
12
8C
Lewie Christian West Jefferson, OH
West Jefferson, OH
13.515
12
1
16E
Caleb Erwin Marysville, OH
Marysville, OH
13.580
13
7
33$
Shane O'Banion Avon, IN
Avon, IN
13.662
14
13
14S
Jacob Stickle Xenia, OH
Xenia, OH
13.670
15
23
C31
Brad Graves Londondary, OH
Londondary, OH
13.736
16
8
319
Steve Watts Nevada, OH
Nevada, OH
13.896
17
16
9K
Kyle Kruger Frankfort, OH
Frankfort, OH
13.928
18
6
37
Bryce Norris Terre Haute, IN
Terre Haute, IN
14.106
19
5
A79
Ashley Tackett Waverly, OH
Waverly, OH
14.155
20
18
51
Chase Baker Waynesville, OH
Waynesville, OH
14.333
21
2
97
Chad Hyatt Sr. Ashville, OH
Ashville, OH
14.770
22
10
1H
Hunter Young Orient, OH
Orient, OH
15.056
23
21
40
Tadd Clary Chllicothe, OH
Chllicothe, OH
17.286
DNS
9
7K
Dawson Knaul Marysville, OH
Marysville, OH
17.286
Big E's Landscaping SCDRA Sport Compacts
Finish
Start
#
Competitor
Hometown
+/-
1
3
4
Kevin Mckenzie Jaskson, OH
Jaskson, OH
2
2
4
27
Darrell Newman Frankfort, OH
Frankfort, OH
2
3
9
H15
AJ Hoffner East Berlin, PA
East Berlin, PA
6
4
14
13
Greg Kiehl
10
5
12
95
Michael Litchfield Chillicothe, OH
Chillicothe, OH
7
6
11
8H
Joe Huber Sprankle Mills, PA
Sprankle Mills, PA
5
7
21
06
Jason Parsons Columbus, OH
Columbus, OH
14
8
18
8
Chris Dyer Zanesville, OH
Zanesville, OH
10
9
26
7
Conard Newman Frankfort, OH
Frankfort, OH
17
10
10
D26
Derek Penley Zanesville, OH
Zanesville, OH
-
11
1
84A
Colton St. John Glenmont, OH
Glenmont, OH
-10
12
15
12
Phil King Windham, OH
Windham, OH
3
13
6
47
Jerry Gibson III CRITTENDEN, KY
CRITTENDEN, KY
-7
14
19
17M
Charles McClintonk Conneautville, PA
Conneautville, PA
5
15
27
41
Cory Allen Zanesville, OH
Zanesville, OH
12
16
13
H12
Brandon Hoffner New Oxford, PA
New Oxford, PA
-3
17
2
6PAC
Chris Wise Thurman, OH
Thurman, OH
-15
18
20
60C
Michael Chapman Zanesville, OH
Zanesville, OH
2
19
5
42
Jeff Huber Mayport, PA
Mayport, PA
-14
20
8
132
Brandon Gibson, Dry Ridge, KY
Dry Ridge, KY
-12
21
7
42JR
Chaz Dawson Jr Shreve, OH
Shreve, OH
-14
22
24
509
Dakota Keating Springfield, OH
Springfield, OH
2
DNS
16
83
Jordan James Lakeville, OH
Lakeville, OH
-
DNS
17
11
Cory Whitt Portsmith, OH
Portsmith, OH
-
DNS
22
07K
Kevin Criswell Wellsburg, WV
Wellsburg, WV
-
DNS
25
X
Scott Bing Stewart, OH
Stewart, OH
-
DNS
23
21B
Jeremy Balsley Heath, OH
Heath, OH
-
Finish
Start
#
Competitor
Hometown
+/-
1
3
84A
Colton St. John Glenmont, OH
Glenmont, OH
2
2
1
27
Darrell Newman Frankfort, OH
Frankfort, OH
-1
3
4
42JR
Chaz Dawson Jr Shreve, OH
Shreve, OH
1
4
6
D26
Derek Penley Zanesville, OH
Zanesville, OH
2
5
2
H12
Brandon Hoffner New Oxford, PA
New Oxford, PA
-3
6
10
83
Jordan James Lakeville, OH
Lakeville, OH
4
7
7
17M
Charles McClintonk Conneautville, PA
Conneautville, PA
-
8
5
07K
Kevin Criswell Wellsburg, WV
Wellsburg, WV
-3
9
9
X
Scott Bing Stewart, OH
Stewart, OH
-
DNS
8
7
Conard Newman Frankfort, OH
Frankfort, OH
-
All transfer
Finish
Start
#
Competitor
Hometown
+/-
1
2
6PAC
Chris Wise Thurman, OH
Thurman, OH
1
2
1
42
Jeff Huber Mayport, PA
Mayport, PA
-1
3
4
132
Brandon Gibson, Dry Ridge, KY
Dry Ridge, KY
1
4
3
8H
Joe Huber Sprankle Mills, PA
Sprankle Mills, PA
-1
5
5
13
Greg Kiehl
-
6
8
11
Cory Whitt Portsmith, OH
Portsmith, OH
2
7
7
60C
Michael Chapman Zanesville, OH
Zanesville, OH
-
DNS
6
21B
Jeremy Balsley Heath, OH
Heath, OH
-
All transfer
Finish
Start
#
Competitor
Hometown
+/-
1
1
4
Kevin Mckenzie Jaskson, OH
Jaskson, OH
-
2
2
47
Jerry Gibson III CRITTENDEN, KY
CRITTENDEN, KY
-
3
4
H15
AJ Hoffner East Berlin, PA
East Berlin, PA
1
4
6
95
Michael Litchfield Chillicothe, OH
Chillicothe, OH
2
5
3
12
Phil King Windham, OH
Windham, OH
-2
6
5
8
Chris Dyer Zanesville, OH
Zanesville, OH
-1
7
7
06
Jason Parsons Columbus, OH
Columbus, OH
-
8
8
509
Dakota Keating Springfield, OH
Springfield, OH
-
All transfer
Finish
Start
#
Competitor
Hometown
Time
1
27
Darrell Newman Frankfort, OH
Frankfort, OH
17.123
2
8
42
Jeff Huber Mayport, PA
Mayport, PA
17.398
3
4
Kevin Mckenzie Jaskson, OH
Jaskson, OH
17.555
4
14
H12
Brandon Hoffner New Oxford, PA
New Oxford, PA
17.585
5
3
6PAC
Chris Wise Thurman, OH
Thurman, OH
17.592
6
47
Jerry Gibson III CRITTENDEN, KY
CRITTENDEN, KY
17.615
7
11
84A
Colton St. John Glenmont, OH
Glenmont, OH
17.656
8
10
8H
Joe Huber Sprankle Mills, PA
Sprankle Mills, PA
17.678
9
7
12
Phil King Windham, OH
Windham, OH
17.735
10
2
42JR
Chaz Dawson Jr Shreve, OH
Shreve, OH
17.882
11
132
Brandon Gibson, Dry Ridge, KY
Dry Ridge, KY
17.893
12
12
H15
AJ Hoffner East Berlin, PA
East Berlin, PA
17.924
13
13
07K
Kevin Criswell Wellsburg, WV
Wellsburg, WV
17.972
14
5
13
Greg Kiehl
17.985
15
8
Chris Dyer Zanesville, OH
Zanesville, OH
18.110
16
D26
Derek Penley Zanesville, OH
Zanesville, OH
18.192
17
21B
Jeremy Balsley Heath, OH
Heath, OH
18.238
18
95
Michael Litchfield Chillicothe, OH
Chillicothe, OH
18.266
19
6
17M
Charles McClintonk Conneautville, PA
Conneautville, PA
18.708
20
60C
Michael Chapman Zanesville, OH
Zanesville, OH
18.818
21
4
06
Jason Parsons Columbus, OH
Columbus, OH
18.845
22
9
7
Conard Newman Frankfort, OH
Frankfort, OH
18.866
23
11
Cory Whitt Portsmith, OH
Portsmith, OH
19.035
24
1
509
Dakota Keating Springfield, OH
Springfield, OH
19.189
25
X
Scott Bing Stewart, OH
Stewart, OH
19.555