Atomic Hosts, March 18, Lucas Oil Late Models Buckeye Spring 50, then March 19, OVSCA Sprints

Atomic Speedway host the World of Outlaw Sprints, Saturday, May 28th.

Atomic Speedway, Saturday, May 28th, World Of Outlaws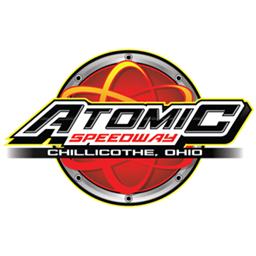 8/20/2022 - Atomic Speedway
Chillicothe, OH
Atomic Speedway Herrnstein Auto Hall of Fame Night, OVSCA
Atomic Speedway present the Herrnstein Auto Group Hall of Fame Night featuring the OVSCA Sprints, Steel Block Late Model Series and the super exciting Sport Mods!!
Ohio Heating 410 Sprints

20 entries

OVSCA-Ohio Valley Sprint Car Association

C&M Racing Equipment Sport Mods

23 entries

Steel Block Late Model Series

22 entries
Available on FloRacing
Full Event Information on MyRacePass
Ohio Heating 410 Sprints
1 Laps
QualifyingOhio Heating and Cooling
Finish
Start
#
Competitor
Hometown
Time
1
14
47
Emerson Axsom Franklin, IN
Franklin, IN
2
4
11C
Kory Crabtree West Jefferson, OH
West Jefferson, OH
3
16
22
Cole Duncan Circleville, OH
Circleville, OH
4
15
99G
Skylar Gee Kokomo, IN
Kokomo, IN
5
3
83X
Nate Reeser Circleville, OH
Circleville, OH
6
6
2
Nathan Skaggs Circleville, OH
Circleville, OH
7
20
4XS
Cale Stinson Vandalia, OH
Vandalia, OH
8
13
00H
Hunter Lynch Ostrander, OH
Ostrander, OH
9
17
59
Bryan Knuckles
10
10
00
Jake Hesson Marysville, OH
Marysville, OH
11
5
24S
Danny Smith Chillicothe, OH
Chillicothe, OH
12
1
1B
Keith Baxter Chillicothe, OH
Chillicothe, OH
13
7
08
Brandon Conkel Stoutsville, OH
Stoutsville, OH
14
9
24
Lee Haskins Chillicothe, OH
Chillicothe, OH
15
18
8D
Josh Davis Chillicothe, OH
Chillicothe, OH
16
11
40
Logan Fenton Hillsboro, OH
Hillsboro, OH
17
8
7A
David Dickson Marietta, OH
Marietta, OH
18
19
4X
Bradley Ashford Wilmington, OH
Wilmington, OH
19
12
4
Chris Smalley Waverly, OH
Waverly, OH
20
2
99
Jimmy Stinson Vandalia, OH
Vandalia, OH
3 Laps
Hot Laps 1Ohio Heating and Cooling
Finish
Start
#
Competitor
Hometown
Time
1
14
47
Emerson Axsom Franklin, IN
Franklin, IN
11.597
2
4
11C
Kory Crabtree West Jefferson, OH
West Jefferson, OH
11.635
3
16
22
Cole Duncan Circleville, OH
Circleville, OH
11.687
4
15
99G
Skylar Gee Kokomo, IN
Kokomo, IN
11.772
5
3
83X
Nate Reeser Circleville, OH
Circleville, OH
11.803
6
6
2
Nathan Skaggs Circleville, OH
Circleville, OH
11.961
7
20
4XS
Cale Stinson Vandalia, OH
Vandalia, OH
12.018
8
13
00H
Hunter Lynch Ostrander, OH
Ostrander, OH
12.019
9
17
59
Bryan Knuckles
12.041
10
10
00
Jake Hesson Marysville, OH
Marysville, OH
12.239
11
5
24S
Danny Smith Chillicothe, OH
Chillicothe, OH
12.330
12
1
1B
Keith Baxter Chillicothe, OH
Chillicothe, OH
12.364
13
7
08
Brandon Conkel Stoutsville, OH
Stoutsville, OH
12.402
14
9
24
Lee Haskins Chillicothe, OH
Chillicothe, OH
12.426
15
18
8D
Josh Davis Chillicothe, OH
Chillicothe, OH
12.549
16
11
40
Logan Fenton Hillsboro, OH
Hillsboro, OH
12.613
17
8
7A
David Dickson Marietta, OH
Marietta, OH
12.685
18
19
4X
Bradley Ashford Wilmington, OH
Wilmington, OH
12.753
19
12
4
Chris Smalley Waverly, OH
Waverly, OH
12.861
20
2
99
Jimmy Stinson Vandalia, OH
Vandalia, OH
12.861
C&M Racing Equipment Sport Mods
2 Laps
Qualifying 1C&M Racing Equipment
Finish
Start
#
Competitor
Hometown
Time
1
1
23
Bob Crace Chillicothe, OH
Chillicothe, OH
16.035
2
16
3P
Kyle Payne Chillicothe, OH
Chillicothe, OH
16.178
3
8
9K
Kevin Wills Chillicothe, OH
Chillicothe, OH
16.198
4
12
5
Landon Barker Chillicothe, OH
Chillicothe, OH
16.276
5
9
51A
Davey Akers Welston, OH
Welston, OH
16.429
6
22
601
Joshua Harrington Chillicothe, OH
Chillicothe, OH
16.480
7
7
42A
Jamey Adams Laurelville, OH
Laurelville, OH
16.512
8
17
711
Adam Jones Chillicothe, OH
Chillicothe, OH
16.651
9
2
16
JD Broughton Waverly, OH
Waverly, OH
16.700
10
23
12
Joseph Buskirk Bainbridge, OH
Bainbridge, OH
16.846
11
11
X4
Shanon Davis Waverly, OH
Waverly, OH
16.850
12
3
73
Tonka Harris Beaver, OH
Beaver, OH
17.017
13
20
33
Gary Park Chillicothe, OH
Chillicothe, OH
17.019
14
15
8
Chris Hopkins Waverly, OH
Waverly, OH
17.075
15
13
62C
Jeff Conrad Chillicothe, OH
Chillicothe, OH
17.124
16
19
17
Nick McNichols Ray, OH
Ray, OH
17.148
17
14
30-30
Camden Houser Chillicothe, OH
Chillicothe, OH
17.149
18
21
772
Joe Williams Chillicothe, OH
Chillicothe, OH
17.157
19
5
11S
Sterling Packer New Albany, OH
New Albany, OH
17.360
20
4
62
Brian Williams Chillicothe, OH
Chillicothe, OH
17.488
21
18
56D
Bryant Dillon South Salem, OH
South Salem, OH
17.818
22
10
21R
Logan Rowe Chillicothe, OH
Chillicothe, OH
18.880
23
6
6M
Bill Malone Chillicothe, OH
Chillicothe, OH
22.652
Steel Block Late Model Series
Finish
Start
#
Competitor
Hometown
Time
1
8
5M
Zach Milbee Poca, WV
Poca, WV
13.638
2
7
S21
Seth Daniels Jackson, OH
Jackson, OH
14.055
3
9
C2
Corey DeLancey Parkersburg, WV
Parkersburg, WV
14.187
4
17
81M
Matt Melvin Coal Grove, OH
Coal Grove, OH
14.288
5
1
43
Dustin Sprouse Parkersburg, WV
Parkersburg, WV
14.300
6
20
58
Evyian Terry Catlettsburg, KY
Catlettsburg, KY
14.314
7
10
45
Russ Frohnapfel Columbus, OH
Columbus, OH
14.387
8
15
77
William Rose Scott depot, WV
Scott depot, WV
14.526
9
3
33B
Joe Brewer Batavia, OH
Batavia, OH
14.599
10
6
43M
Mike Sprouse Parkersburg, WV
Parkersburg, WV
14.650
11
11
56
Tommy Powell Belpre, OH
Belpre, OH
14.769
12
4
90
Vern Lefevers Cincinnati, OH
Cincinnati, OH
14.872
13
12
14
Scott Wolfe Racine, OH
Racine, OH
14.948
14
13
24
Jimmy Morey Bellville, OH
Bellville, OH
14.950
15
18
21R
Ray Alley Minford, OH
Minford, OH
14.981
16
14
144
Austin Seelig Millersport, OH
Millersport, OH
15.148
17
16
90C
Jarrod Cassley Bremen, OH
Bremen, OH
15.305
18
19
25
Ted Johnson Jr RUSHVILLE, OH
RUSHVILLE, OH
15.371
19
46
Chris Williams Memphis, TN
Memphis, TN
15.456
20
12
Kevin Davis West Lafayette, OH
West Lafayette, OH
15.913
21
2
52
Shawn Lovejoy St Albans, WV
St Albans, WV
16.725
22
5
2
Rick Mardis West Lafayette, OH
West Lafayette, OH
16.725