Atomic Hosts, March 18, Lucas Oil Late Models Buckeye Spring 50, then March 19, OVSCA Sprints

Atomic Speedway host the World of Outlaw Sprints, Saturday, May 28th.

Atomic Speedway, Saturday, May 28th, World Of Outlaws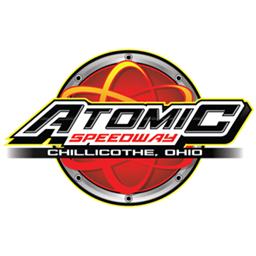 4/2/2022 - Atomic Speedway
Chillicothe, OH
Atomic Ladies Night
Ladies get in FREE!!
$3,000 - Late Models
$1,000 - Modifieds
$500 - 305 Sprints
$300 - Sport Compacts
NO REFUNDS!
RAIN CHECKS WILL BE HONORED WITH TIX OF SAME OF LESSER VALUE. NO REFUNDS OR CREDITS WILL BE GIVEN FOR ANY REASON WHATSOEVER.
Impact Race Gear Late Models

23 entries

Kryptonite RaceCars Modifieds

25 entries

IMCA RaceSaver 305

21 entries

Big E's Landscaping SCDRA Sport Compacts

17 entries
Full Event Information on MyRacePass
Impact Race Gear Late Models
Finish
Start
#
Competitor
Hometown
+/-
1
2
11
Josh Rice Verona, KY
Verona, KY
1
2
1
28
Tyler Carpenter Parkersburg, WV
Parkersburg, WV
-1
3
3
9C
Steve Casebolt Richmond, IN
Richmond, IN
-
4
4
15
James Rice Verona, KY
Verona, KY
-
5
6
1AM
Austyn Mills Cincinnati, OH
Cincinnati, OH
1
6
10
83
Scott James Lawrenceburg, IN
Lawrenceburg, IN
4
7
8
71R
Rod Conley Wheelersburg, OH
Wheelersburg, OH
1
8
5
20B
Todd Brennan Zanesville, OH
Zanesville, OH
-3
9
11
95J
Jerry Bowersock Wapakoneta, OH
Wapakoneta, OH
2
10
14
20TC
Tristan Chamberlain Richmond, IN
Richmond, IN
4
11
9
21
Kirk Phillips Ashland, KY
Ashland, KY
-2
12
7
53C
Andy Bond
-5
13
18
6
Travis Carr Stoutsville, OH
Stoutsville, OH
5
14
13
5M
Ryan Markham Ashland, OH
Ashland, OH
-1
15
17
90
Vern Lefevers Cincinnati, OH
Cincinnati, OH
2
16
20
1
Ronnie Whitt Minfoird, OH
Minfoird, OH
4
17
23
W1
Cory Workman Gratiot, OH
Gratiot, OH
6
18
15
45
Russ Frohnapfel Columbus, OH
Columbus, OH
-3
19
12
88
Dustin Smith Frazeysburg, OH
Frazeysburg, OH
-7
20
21
24S
Chuck Simons Cincinnati, OH
Cincinnati, OH
1
21
16
511
Chris Lockhart Huntington, WV
Huntington, WV
-5
DNS
19
34
Herb Reich Ann Arbor, MI
Ann Arbor, MI
-
DNS
22
145
Chase Frohnapfel Canal Winchester, OH
Canal Winchester, OH
-
Finish
Start
#
Competitor
Hometown
+/-
1
1
28
Tyler Carpenter Parkersburg, WV
Parkersburg, WV
-
2
2
15
James Rice Verona, KY
Verona, KY
-
3
4
53C
Andy Bond
1
4
3
83
Scott James Lawrenceburg, IN
Lawrenceburg, IN
-1
5
5
5M
Ryan Markham Ashland, OH
Ashland, OH
-
6
7
511
Chris Lockhart Huntington, WV
Huntington, WV
1
7
6
34
Herb Reich Ann Arbor, MI
Ann Arbor, MI
-1
8
8
145
Chase Frohnapfel Canal Winchester, OH
Canal Winchester, OH
-
All transfer
Finish
Start
#
Competitor
Hometown
+/-
1
1
11
Josh Rice Verona, KY
Verona, KY
-
2
2
20B
Todd Brennan Zanesville, OH
Zanesville, OH
-
3
4
71R
Rod Conley Wheelersburg, OH
Wheelersburg, OH
1
4
3
95J
Jerry Bowersock Wapakoneta, OH
Wapakoneta, OH
-1
5
6
20TC
Tristan Chamberlain Richmond, IN
Richmond, IN
1
6
7
90
Vern Lefevers Cincinnati, OH
Cincinnati, OH
1
7
5
1
Ronnie Whitt Minfoird, OH
Minfoird, OH
-2
8
8
W1
Cory Workman Gratiot, OH
Gratiot, OH
-
All transfer
Finish
Start
#
Competitor
Hometown
+/-
1
2
9C
Steve Casebolt Richmond, IN
Richmond, IN
1
2
1
1AM
Austyn Mills Cincinnati, OH
Cincinnati, OH
-1
3
3
21
Kirk Phillips Ashland, KY
Ashland, KY
-
4
4
88
Dustin Smith Frazeysburg, OH
Frazeysburg, OH
-
5
7
45
Russ Frohnapfel Columbus, OH
Columbus, OH
2
6
5
6
Travis Carr Stoutsville, OH
Stoutsville, OH
-1
7
6
24S
Chuck Simons Cincinnati, OH
Cincinnati, OH
-1
All transfer
Finish
Start
#
Competitor
Hometown
Time
1
17
28
Tyler Carpenter Parkersburg, WV
Parkersburg, WV
13.603
2
9
11
Josh Rice Verona, KY
Verona, KY
13.629
3
23
1AM
Austyn Mills Cincinnati, OH
Cincinnati, OH
13.722
4
12
15
James Rice Verona, KY
Verona, KY
13.736
5
15
20B
Todd Brennan Zanesville, OH
Zanesville, OH
13.767
6
14
9C
Steve Casebolt Richmond, IN
Richmond, IN
13.793
7
6
83
Scott James Lawrenceburg, IN
Lawrenceburg, IN
13.828
8
20
95J
Jerry Bowersock Wapakoneta, OH
Wapakoneta, OH
13.899
9
21
21
Kirk Phillips Ashland, KY
Ashland, KY
13.975
10
8
53C
Andy Bond
14.050
11
22
71R
Rod Conley Wheelersburg, OH
Wheelersburg, OH
14.132
12
19
88
Dustin Smith Frazeysburg, OH
Frazeysburg, OH
14.144
13
7
5M
Ryan Markham Ashland, OH
Ashland, OH
14.217
14
5
1
Ronnie Whitt Minfoird, OH
Minfoird, OH
14.405
15
10
6
Travis Carr Stoutsville, OH
Stoutsville, OH
14.463
16
4
34
Herb Reich Ann Arbor, MI
Ann Arbor, MI
14.525
17
13
20TC
Tristan Chamberlain Richmond, IN
Richmond, IN
14.698
18
18
24S
Chuck Simons Cincinnati, OH
Cincinnati, OH
14.728
19
3
511
Chris Lockhart Huntington, WV
Huntington, WV
15.026
20
11
90
Vern Lefevers Cincinnati, OH
Cincinnati, OH
15.221
21
2
45
Russ Frohnapfel Columbus, OH
Columbus, OH
15.239
22
1
145
Chase Frohnapfel Canal Winchester, OH
Canal Winchester, OH
15.275
23
16
W1
Cory Workman Gratiot, OH
Gratiot, OH
15.397
Kryptonite RaceCars Modifieds
Finish
Start
#
Competitor
Hometown
+/-
1
1
68
Adam Stricker Batavia, OH
Batavia, OH
-
2
2
21
Seth Daniels Jackson, OH
Jackson, OH
-
3
5
10
Kyle Bond Guysville, OH
Guysville, OH
2
4
3
22
Spencer Flowers Grove City, OH
Grove City, OH
-1
5
7
1
Kenny Johnson Mineral Wells, WV
Mineral Wells, WV
2
6
14
18C
Miles Cook Jr Wheerlersburg, OH
Wheerlersburg, OH
8
7
10
17N
Dillon Nusbaum Warsaw, IN
Warsaw, IN
3
8
6
32
Chad Roush Reedsville, OH
Reedsville, OH
-2
9
8
3B
Blake Sheets Waverly, OH
Waverly, OH
-1
10
16
52
Brian Whiteman New Plymouth, OH
New Plymouth, OH
6
11
20
99
Seth Chaney Chillicothe, OH
Chillicothe, OH
9
12
18
23R
Nick Richards Anderson, IN
Anderson, IN
6
13
12
8
Dave Pinkerton Waverly, OH
Waverly, OH
-1
14
13
2
Anthony Slusher Lucasville, OH
Lucasville, OH
-1
15
4
RC10
Reed Bishop Bidwell, OH
Bidwell, OH
-11
16
17
42A
Jamey Adams Laurelville, OH
Laurelville, OH
1
17
15
95
Darrick Hubbard Jr. Bellville, OH
Bellville, OH
-2
18
9
75C
Steve Clemmons Chillicothe, OH
Chillicothe, OH
-9
19
11
9R
J.P. Roberts Jr. Gallipolis, OH
Gallipolis, OH
-8
20
19
11
Jason Brennan Zanesville, OH
Zanesville, OH
-1
Finish
Start
#
Competitor
Hometown
+/-
1
3
11
Jason Brennan Zanesville, OH
Zanesville, OH
2
2
6
99
Seth Chaney Chillicothe, OH
Chillicothe, OH
4
Top 2 transfer
3
1
12
Joseph Buskirk Bainbridge, OH
Bainbridge, OH
-2
4
5
601
Joshua Harrington Chillicothe, OH
Chillicothe, OH
1
5
4
9
Garrett Rons Livonia, MI
Livonia, MI
-1
6
2
M17
Matt Stewart Wellston, OH
Wellston, OH
-4
7
7
A13
Roger Arix Tuppers Plains, OH
Tuppers Plains, OH
-
Finish
Start
#
Competitor
Hometown
+/-
1
1
68
Adam Stricker Batavia, OH
Batavia, OH
-
2
2
RC10
Reed Bishop Bidwell, OH
Bidwell, OH
-
3
3
1
Kenny Johnson Mineral Wells, WV
Mineral Wells, WV
-
4
4
17N
Dillon Nusbaum Warsaw, IN
Warsaw, IN
-
5
6
2
Anthony Slusher Lucasville, OH
Lucasville, OH
1
6
5
52
Brian Whiteman New Plymouth, OH
New Plymouth, OH
-1
Top 6 transfer
7
7
12
Joseph Buskirk Bainbridge, OH
Bainbridge, OH
-
8
8
9
Garrett Rons Livonia, MI
Livonia, MI
-
9
9
A13
Roger Arix Tuppers Plains, OH
Tuppers Plains, OH
-
Finish
Start
#
Competitor
Hometown
+/-
1
1
21
Seth Daniels Jackson, OH
Jackson, OH
-
2
4
10
Kyle Bond Guysville, OH
Guysville, OH
2
3
6
3B
Blake Sheets Waverly, OH
Waverly, OH
3
4
3
9R
J.P. Roberts Jr. Gallipolis, OH
Gallipolis, OH
-1
5
2
18C
Miles Cook Jr Wheerlersburg, OH
Wheerlersburg, OH
-3
6
5
42A
Jamey Adams Laurelville, OH
Laurelville, OH
-1
Top 6 transfer
7
8
M17
Matt Stewart Wellston, OH
Wellston, OH
1
8
7
601
Joshua Harrington Chillicothe, OH
Chillicothe, OH
-1
Finish
Start
#
Competitor
Hometown
+/-
1
1
22
Spencer Flowers Grove City, OH
Grove City, OH
-
2
3
32
Chad Roush Reedsville, OH
Reedsville, OH
1
3
4
75C
Steve Clemmons Chillicothe, OH
Chillicothe, OH
1
4
5
8
Dave Pinkerton Waverly, OH
Waverly, OH
1
5
6
95
Darrick Hubbard Jr. Bellville, OH
Bellville, OH
1
6
8
23R
Nick Richards Anderson, IN
Anderson, IN
2
Top 6 transfer
7
2
11
Jason Brennan Zanesville, OH
Zanesville, OH
-5
8
7
99
Seth Chaney Chillicothe, OH
Chillicothe, OH
-1
Finish
Start
#
Competitor
Hometown
Time
1
23
68
Adam Stricker Batavia, OH
Batavia, OH
14.946
2
2
21
Seth Daniels Jackson, OH
Jackson, OH
15.381
3
5
22
Spencer Flowers Grove City, OH
Grove City, OH
15.484
4
22
RC10
Reed Bishop Bidwell, OH
Bidwell, OH
15.586
5
9
18C
Miles Cook Jr Wheerlersburg, OH
Wheerlersburg, OH
15.655
6
10
11
Jason Brennan Zanesville, OH
Zanesville, OH
15.698
7
7
1
Kenny Johnson Mineral Wells, WV
Mineral Wells, WV
15.761
8
3
9R
J.P. Roberts Jr. Gallipolis, OH
Gallipolis, OH
15.855
9
6
32
Chad Roush Reedsville, OH
Reedsville, OH
15.877
10
17
17N
Dillon Nusbaum Warsaw, IN
Warsaw, IN
15.939
11
20
10
Kyle Bond Guysville, OH
Guysville, OH
16.052
12
1
75C
Steve Clemmons Chillicothe, OH
Chillicothe, OH
16.058
13
12
52
Brian Whiteman New Plymouth, OH
New Plymouth, OH
16.098
14
11
42A
Jamey Adams Laurelville, OH
Laurelville, OH
16.205
15
8
8
Dave Pinkerton Waverly, OH
Waverly, OH
16.253
16
15
2
Anthony Slusher Lucasville, OH
Lucasville, OH
16.272
17
24
3B
Blake Sheets Waverly, OH
Waverly, OH
16.317
18
19
95
Darrick Hubbard Jr. Bellville, OH
Bellville, OH
16.610
19
14
12
Joseph Buskirk Bainbridge, OH
Bainbridge, OH
16.803
20
16
601
Joshua Harrington Chillicothe, OH
Chillicothe, OH
16.821
21
13
99
Seth Chaney Chillicothe, OH
Chillicothe, OH
17.060
22
21
9
Garrett Rons Livonia, MI
Livonia, MI
17.080
23
18
M17
Matt Stewart Wellston, OH
Wellston, OH
17.293
24
23R
Nick Richards Anderson, IN
Anderson, IN
19.526
25
4
A13
Roger Arix Tuppers Plains, OH
Tuppers Plains, OH
29.347
IMCA RaceSaver 305
Finish
Start
#
Competitor
Hometown
+/-
1
2
78
Justin Clark Hamersville, OH
Hamersville, OH
1
2
3
319
Jake Hesson Marysville, OH
Marysville, OH
1
3
5
17P
Austin Powell Wilmington, OH
Wilmington, OH
2
4
7
14S
Jacob Stickle Xenia, OH
Xenia, OH
3
5
1
9K
Kyle Kruger Frankfort, OH
Frankfort, OH
-4
6
17
8C
Lewie Christian West Jefferson, OH
West Jefferson, OH
11
7
6
4T
Dylan Troyer Urbana, OH
Urbana, OH
-1
8
8
5
John Starr Hillsboro, OH
Hillsboro, OH
-
9
9
37
Bryce Norris Terre Haute, IN
Terre Haute, IN
-
10
11
C31
Brad Graves Londondary, OH
Londondary, OH
1
11
16
21G
Roman Gephart New Lebanon, OH
New Lebanon, OH
5
12
12
11J
James Moore Marysville, OH
Marysville, OH
-
13
14
51
Chase Baker Waynesville, OH
Waynesville, OH
1
14
13
16E
Caleb Erwin Marysville, OH
Marysville, OH
-1
15
15
79
Chris Miller Chillicothe, OH
Chillicothe, OH
-
16
19
97
Chad Hyatt Sr. Ashville, OH
Ashville, OH
3
17
18
33$
Shane O'Banion Avon, IN
Avon, IN
1
18
20
A79
Ashley Tackett Waverly, OH
Waverly, OH
2
19
4
83
Carson Dillion Terre Haute, IN
Terre Haute, IN
-15
20
10
00H
Michael Helterbran Cable, OH
Cable, OH
-10
21
21
1H
Hunter Young Orient, OH
Orient, OH
-
Finish
Start
#
Competitor
Hometown
+/-
1
2
319
Jake Hesson Marysville, OH
Marysville, OH
1
2
1
9K
Kyle Kruger Frankfort, OH
Frankfort, OH
-1
3
3
14S
Jacob Stickle Xenia, OH
Xenia, OH
-
4
4
00H
Michael Helterbran Cable, OH
Cable, OH
-
5
5
16E
Caleb Erwin Marysville, OH
Marysville, OH
-
6
6
21G
Roman Gephart New Lebanon, OH
New Lebanon, OH
-
7
7
97
Chad Hyatt Sr. Ashville, OH
Ashville, OH
-
All transfer
Finish
Start
#
Competitor
Hometown
+/-
1
1
78
Justin Clark Hamersville, OH
Hamersville, OH
-
2
2
17P
Austin Powell Wilmington, OH
Wilmington, OH
-
3
4
5
John Starr Hillsboro, OH
Hillsboro, OH
1
4
5
C31
Brad Graves Londondary, OH
Londondary, OH
1
5
7
51
Chase Baker Waynesville, OH
Waynesville, OH
2
6
3
8C
Lewie Christian West Jefferson, OH
West Jefferson, OH
-3
7
6
A79
Ashley Tackett Waverly, OH
Waverly, OH
-1
All transfer
Finish
Start
#
Competitor
Hometown
+/-
1
1
4T
Dylan Troyer Urbana, OH
Urbana, OH
-
2
3
83
Carson Dillion Terre Haute, IN
Terre Haute, IN
1
3
2
37
Bryce Norris Terre Haute, IN
Terre Haute, IN
-1
4
4
11J
James Moore Marysville, OH
Marysville, OH
-
5
5
79
Chris Miller Chillicothe, OH
Chillicothe, OH
-
6
6
33$
Shane O'Banion Avon, IN
Avon, IN
-
7
7
1H
Hunter Young Orient, OH
Orient, OH
-
All transfer
Finish
Start
#
Competitor
Hometown
Time
1
9
9K
Kyle Kruger Frankfort, OH
Frankfort, OH
13.448
2
8
78
Justin Clark Hamersville, OH
Hamersville, OH
13.595
3
17
4T
Dylan Troyer Urbana, OH
Urbana, OH
13.622
4
12
319
Jake Hesson Marysville, OH
Marysville, OH
13.657
5
10
17P
Austin Powell Wilmington, OH
Wilmington, OH
13.660
6
19
37
Bryce Norris Terre Haute, IN
Terre Haute, IN
13.743
7
15
14S
Jacob Stickle Xenia, OH
Xenia, OH
13.756
8
16
8C
Lewie Christian West Jefferson, OH
West Jefferson, OH
13.855
9
2
83
Carson Dillion Terre Haute, IN
Terre Haute, IN
13.910
10
6
00H
Michael Helterbran Cable, OH
Cable, OH
13.984
11
4
5
John Starr Hillsboro, OH
Hillsboro, OH
14.071
12
7
11J
James Moore Marysville, OH
Marysville, OH
14.086
13
14
16E
Caleb Erwin Marysville, OH
Marysville, OH
14.185
14
1
C31
Brad Graves Londondary, OH
Londondary, OH
14.188
15
20
79
Chris Miller Chillicothe, OH
Chillicothe, OH
14.281
16
3
21G
Roman Gephart New Lebanon, OH
New Lebanon, OH
14.345
17
11
A79
Ashley Tackett Waverly, OH
Waverly, OH
14.593
18
18
33$
Shane O'Banion Avon, IN
Avon, IN
15.015
19
13
97
Chad Hyatt Sr. Ashville, OH
Ashville, OH
15.505
20
5
51
Chase Baker Waynesville, OH
Waynesville, OH
16.326
21
21
1H
Hunter Young Orient, OH
Orient, OH
16.326
Big E's Landscaping SCDRA Sport Compacts
Finish
Start
#
Competitor
Hometown
+/-
1
1
27
Darrell Newman Frankfort, OH
Frankfort, OH
-
2
2
123
Matt Large Bainbridge, OH
Bainbridge, OH
-
3
4
17D
Dustin Puckett Jr. Sardinia, OH
Sardinia, OH
1
4
6
7
Conard Newman Frankfort, OH
Frankfort, OH
2
5
9
777
Howard Rock Jr. Roseville, OH
Roseville, OH
4
6
11
777M
William Muncey Columbus, OH
Columbus, OH
5
7
12
278
Zack Hershy Mansfield, OH
Mansfield, OH
5
8
8
55
Ralph Carnes Zanesville, OH
Zanesville, OH
-
9
7
60C
Michael Chapman Zanesville, OH
Zanesville, OH
-2
10
10
11W
Tristan Miller Jackson, OH
Jackson, OH
-
11
5
11C
Casey Segebart VINTON, OH
VINTON, OH
-6
12
13
X
Scott Bing Stewart, OH
Stewart, OH
1
13
3
11
Cory Whitt Portsmith, OH
Portsmith, OH
-10
DNS
17
R7
Josh Ramirez Mansfield, OH
Mansfield, OH
-
DNS
14
3M
Jimmy Dunaway Oak Hill, OH
Oak Hill, OH
-
DNS
15
9
Brandon Dunaway Oak Hill, OH
Oak Hill, OH
-
DNS
16
21B
Jeremy Baisley Heath, OH
Heath, OH
-
Finish
Start
#
Competitor
Hometown
+/-
1
1
27
Darrell Newman Frankfort, OH
Frankfort, OH
-
2
2
11
Cory Whitt Portsmith, OH
Portsmith, OH
-
3
4
11C
Casey Segebart VINTON, OH
VINTON, OH
1
4
3
60C
Michael Chapman Zanesville, OH
Zanesville, OH
-1
5
8
777
Howard Rock Jr. Roseville, OH
Roseville, OH
3
6
6
777M
William Muncey Columbus, OH
Columbus, OH
-
7
5
X
Scott Bing Stewart, OH
Stewart, OH
-2
All transfer
Finish
Start
#
Competitor
Hometown
+/-
1
2
123
Matt Large Bainbridge, OH
Bainbridge, OH
1
2
1
17D
Dustin Puckett Jr. Sardinia, OH
Sardinia, OH
-1
3
4
7
Conard Newman Frankfort, OH
Frankfort, OH
1
4
6
55
Ralph Carnes Zanesville, OH
Zanesville, OH
2
5
3
11W
Tristan Miller Jackson, OH
Jackson, OH
-2
6
5
278
Zack Hershy Mansfield, OH
Mansfield, OH
-1
7
7
3M
Jimmy Dunaway Oak Hill, OH
Oak Hill, OH
-
8
8
9
Brandon Dunaway Oak Hill, OH
Oak Hill, OH
-
All transfer
Finish
Start
#
Competitor
Hometown
Time
1
2
27
Darrell Newman Frankfort, OH
Frankfort, OH
18.421
2
8
17D
Dustin Puckett Jr. Sardinia, OH
Sardinia, OH
19.397
3
14
11
Cory Whitt Portsmith, OH
Portsmith, OH
19.635
4
12
123
Matt Large Bainbridge, OH
Bainbridge, OH
19.712
5
4
60C
Michael Chapman Zanesville, OH
Zanesville, OH
20.496
6
1
11W
Tristan Miller Jackson, OH
Jackson, OH
20.522
7
11
11C
Casey Segebart VINTON, OH
VINTON, OH
20.721
8
10
7
Conard Newman Frankfort, OH
Frankfort, OH
21.293
9
13
X
Scott Bing Stewart, OH
Stewart, OH
21.432
10
3
278
Zack Hershy Mansfield, OH
Mansfield, OH
21.455
11
5
777M
William Muncey Columbus, OH
Columbus, OH
21.883
12
6
55
Ralph Carnes Zanesville, OH
Zanesville, OH
21.896