Atomic Hosts, March 18, Lucas Oil Late Models Buckeye Spring 50, then March 19, OVSCA Sprints

Atomic Speedway host the World of Outlaw Sprints, Saturday, May 28th.

Atomic Speedway, Saturday, May 28th, World Of Outlaws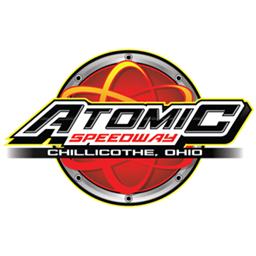 6/25/2022 - Atomic Speedway
Chillicothe, OH
Atomic 100, Night 2, Iron Man Lates $10K TO WIN, Mods
Atomic Speedway Celebrates Night 2 of the Atomic 100 with the returning Iron Man Series and a $10k to win Finale. Join us for this amazing night of some of the BEST Late Model and Modifieds in the country.
Impact Race Gear Late Models

23 entries

Iron-Man Late Model Series

Kryptonite RaceCars Modifieds

24 entries

IMCA RaceSaver 305

18 entries

Big E's Landscaping SCDRA Sport Compacts

3 entries
Full Event Information on MyRacePass
Impact Race Gear Late Models
Finish
Start
#
Competitor
Hometown
+/-
1
1
37
Jacob Hawkins Fairmont, WV
Fairmont, WV
-
2
19
1B
Nick Bocook Wheelersburg, OH
Wheelersburg, OH
17
3
9
11
Jared Hawkins Fairmont, WV
Fairmont, WV
6
4
15
71R
Rod Conley Wheelersburg, OH
Wheelersburg, OH
11
5
3
99
Camaron Marlar Winfield, TN
Winfield, TN
-2
6
8
53C
Andy Bond
2
7
12
97
Michael Chilton Salvisa, KY
Salvisa, KY
5
8
4
9
Devin Moran Dresden, OH
Dresden, OH
-4
9
18
20B
Todd Brennan Zanesville, OH
Zanesville, OH
9
10
11
17SS
Brenden Smith Dade City, FL
Dade City, FL
1
11
7
21
Kirk Phillips Ashland, KY
Ashland, KY
-4
12
13
20TC
Tristan Chamberlain Richmond, IN
Richmond, IN
1
13
17
33AJ
Austin Lay Florence, KY
Florence, KY
4
14
2
71C
RJ Conley Wheelersburg, OH
Wheelersburg, OH
-12
15
20
28
Tyler Carpenter Parkersburg, WV
Parkersburg, WV
5
16
5
OK
Freddie Carpenter Parkersburg, WV
Parkersburg, WV
-11
17
21
B1
Josh Bocook Wheelersburg, OH
Wheelersburg, OH
4
18
22
6
Travis Carr Stoutsville, OH
Stoutsville, OH
4
19
6
44
K.C. Burdette Parkersburg, WV
Parkersburg, WV
-13
20
10
29
Clint Keenan Pataskala, OH
Pataskala, OH
-10
21
14
1AM
Austyn Mills Cincinnati, OH
Cincinnati, OH
-7
22
16
19
Chad Smith Waynesville, OH
Waynesville, OH
-6
DNS
23
22
Vern Lefevers Cincinnati, OH
Cincinnati, OH
-
Finish
Start
#
Competitor
Hometown
+/-
1
2
37
Jacob Hawkins Fairmont, WV
Fairmont, WV
1
2
1
9
Devin Moran Dresden, OH
Dresden, OH
-1
3
5
21
Kirk Phillips Ashland, KY
Ashland, KY
2
4
6
29
Clint Keenan Pataskala, OH
Pataskala, OH
2
5
4
20TC
Tristan Chamberlain Richmond, IN
Richmond, IN
-1
6
7
19
Chad Smith Waynesville, OH
Waynesville, OH
1
7
3
1B
Nick Bocook Wheelersburg, OH
Wheelersburg, OH
-4
8
8
6
Travis Carr Stoutsville, OH
Stoutsville, OH
-
All transfer
Finish
Start
#
Competitor
Hometown
+/-
1
1
71C
RJ Conley Wheelersburg, OH
Wheelersburg, OH
-
2
2
OK
Freddie Carpenter Parkersburg, WV
Parkersburg, WV
-
3
5
53C
Andy Bond
2
4
3
17SS
Brenden Smith Dade City, FL
Dade City, FL
-1
5
6
1AM
Austyn Mills Cincinnati, OH
Cincinnati, OH
1
6
7
33AJ
Austin Lay Florence, KY
Florence, KY
1
7
4
28
Tyler Carpenter Parkersburg, WV
Parkersburg, WV
-3
8
8
22
Vern Lefevers Cincinnati, OH
Cincinnati, OH
-
All transfer
Finish
Start
#
Competitor
Hometown
+/-
1
2
99
Camaron Marlar Winfield, TN
Winfield, TN
1
2
1
44
K.C. Burdette Parkersburg, WV
Parkersburg, WV
-1
3
3
11
Jared Hawkins Fairmont, WV
Fairmont, WV
-
4
4
97
Michael Chilton Salvisa, KY
Salvisa, KY
-
5
5
71R
Rod Conley Wheelersburg, OH
Wheelersburg, OH
-
6
7
20B
Todd Brennan Zanesville, OH
Zanesville, OH
1
7
6
B1
Josh Bocook Wheelersburg, OH
Wheelersburg, OH
-1
All transfer
Finish
Start
#
Competitor
Hometown
Time
1
11
9
Devin Moran Dresden, OH
Dresden, OH
13.428
2
10
71C
RJ Conley Wheelersburg, OH
Wheelersburg, OH
13.455
3
5
44
K.C. Burdette Parkersburg, WV
Parkersburg, WV
13.573
4
8
37
Jacob Hawkins Fairmont, WV
Fairmont, WV
13.659
5
4
OK
Freddie Carpenter Parkersburg, WV
Parkersburg, WV
13.667
6
17
99
Camaron Marlar Winfield, TN
Winfield, TN
13.739
7
12
1B
Nick Bocook Wheelersburg, OH
Wheelersburg, OH
13.765
8
15
17SS
Brenden Smith Dade City, FL
Dade City, FL
13.783
9
19
11
Jared Hawkins Fairmont, WV
Fairmont, WV
13.790
10
6
20TC
Tristan Chamberlain Richmond, IN
Richmond, IN
13.793
11
3
28
Tyler Carpenter Parkersburg, WV
Parkersburg, WV
13.797
12
7
97
Michael Chilton Salvisa, KY
Salvisa, KY
13.843
13
9
21
Kirk Phillips Ashland, KY
Ashland, KY
13.853
14
23
53C
Andy Bond
13.884
15
18
71R
Rod Conley Wheelersburg, OH
Wheelersburg, OH
13.891
16
20
29
Clint Keenan Pataskala, OH
Pataskala, OH
13.963
17
21
1AM
Austyn Mills Cincinnati, OH
Cincinnati, OH
13.999
18
13
B1
Josh Bocook Wheelersburg, OH
Wheelersburg, OH
14.072
19
14
19
Chad Smith Waynesville, OH
Waynesville, OH
14.091
20
2
33AJ
Austin Lay Florence, KY
Florence, KY
14.272
21
22
20B
Todd Brennan Zanesville, OH
Zanesville, OH
14.278
22
16
6
Travis Carr Stoutsville, OH
Stoutsville, OH
14.486
23
1
22
Vern Lefevers Cincinnati, OH
Cincinnati, OH
15.342
Kryptonite RaceCars Modifieds
Finish
Start
#
Competitor
Hometown
+/-
1
1
35
Adam Stricker Batavia, OH
Batavia, OH
-
2
2
66
Cole Falloway Owensboro, KY
Owensboro, KY
-
3
3
17X
Rich Michael Jr. Ischua, NY
Ischua, NY
-
4
4
9R
J.P. Roberts Jr. Gallipolis, OH
Gallipolis, OH
-
5
8
10
Kyle Bond Guysville, OH
Guysville, OH
3
6
6
21
Seth Daniels Jackson, OH
Jackson, OH
-
7
9
22
Spencer Flowers Grove City, OH
Grove City, OH
2
8
5
18C
Miles Cook Jr Wheerlersburg, OH
Wheerlersburg, OH
-3
9
16
32
Chad Roush Reedsville, OH
Reedsville, OH
7
10
13
52
Brian Whiteman New Plymouth, OH
New Plymouth, OH
3
11
15
12S
Brad Stone Reedsville, OH
Reedsville, OH
4
12
19
75
Steve Clemmons Chillicothe, OH
Chillicothe, OH
7
13
11
D4
Dave Jamison
-2
14
24
99
Seth Chaney Chillicothe, OH
Chillicothe, OH
10
15
21
3B
Blake Sheets Waverly, OH
Waverly, OH
6
16
7
1W
Brian Wilburn Portsmouth, OH
Portsmouth, OH
-9
17
12
1
Kenny Johnson Mineral Wells, WV
Mineral Wells, WV
-5
18
10
8
Dave Pinkerton Waverly, OH
Waverly, OH
-8
19
22
23
Bob Crace Chillicothe, OH
Chillicothe, OH
3
20
17
55S
Jim Szekacs Columbus, OH
Columbus, OH
-3
21
14
07
Larry Bond Coolville, OH
Coolville, OH
-7
22
20
11
Jesse Rupe Sophia, WV
Sophia, WV
-2
23
18
18
Miles Cook Sr Wheelersburg, OH
Wheelersburg, OH
-5
DNS
23
11D
Shawn Donahue
-
Finish
Start
#
Competitor
Hometown
+/-
1
2
35
Adam Stricker Batavia, OH
Batavia, OH
1
2
1
9R
J.P. Roberts Jr. Gallipolis, OH
Gallipolis, OH
-1
3
3
1W
Brian Wilburn Portsmouth, OH
Portsmouth, OH
-
4
4
8
Dave Pinkerton Waverly, OH
Waverly, OH
-
5
6
52
Brian Whiteman New Plymouth, OH
New Plymouth, OH
1
6
7
32
Chad Roush Reedsville, OH
Reedsville, OH
1
7
5
75
Steve Clemmons Chillicothe, OH
Chillicothe, OH
-2
8
8
23
Bob Crace Chillicothe, OH
Chillicothe, OH
-
All transfer
Finish
Start
#
Competitor
Hometown
+/-
1
2
66
Cole Falloway Owensboro, KY
Owensboro, KY
1
2
1
18C
Miles Cook Jr Wheerlersburg, OH
Wheerlersburg, OH
-1
3
3
10
Kyle Bond Guysville, OH
Guysville, OH
-
4
5
D4
Dave Jamison
1
5
6
07
Larry Bond Coolville, OH
Coolville, OH
1
6
8
55S
Jim Szekacs Columbus, OH
Columbus, OH
2
7
7
11
Jesse Rupe Sophia, WV
Sophia, WV
-
8
4
11D
Shawn Donahue
-4
All transfer
Finish
Start
#
Competitor
Hometown
+/-
1
2
17X
Rich Michael Jr. Ischua, NY
Ischua, NY
1
2
3
21
Seth Daniels Jackson, OH
Jackson, OH
1
3
5
22
Spencer Flowers Grove City, OH
Grove City, OH
2
4
1
1
Kenny Johnson Mineral Wells, WV
Mineral Wells, WV
-3
5
7
12S
Brad Stone Reedsville, OH
Reedsville, OH
2
6
8
18
Miles Cook Sr Wheelersburg, OH
Wheelersburg, OH
2
7
4
3B
Blake Sheets Waverly, OH
Waverly, OH
-3
DNS
6
99
Seth Chaney Chillicothe, OH
Chillicothe, OH
-
All transfer
Finish
Start
#
Competitor
Hometown
Time
1
12
9R
J.P. Roberts Jr. Gallipolis, OH
Gallipolis, OH
15.197
2
3
18C
Miles Cook Jr Wheerlersburg, OH
Wheerlersburg, OH
15.254
3
14
1
Kenny Johnson Mineral Wells, WV
Mineral Wells, WV
15.270
4
19
66
Cole Falloway Owensboro, KY
Owensboro, KY
15.291
5
15
17X
Rich Michael Jr. Ischua, NY
Ischua, NY
15.477
6
20
1W
Brian Wilburn Portsmouth, OH
Portsmouth, OH
15.545
7
17
10
Kyle Bond Guysville, OH
Guysville, OH
15.590
8
13
21
Seth Daniels Jackson, OH
Jackson, OH
15.654
9
11
8
Dave Pinkerton Waverly, OH
Waverly, OH
15.654
10
9
11D
Shawn Donahue
15.703
11
2
3B
Blake Sheets Waverly, OH
Waverly, OH
15.722
12
24
75
Steve Clemmons Chillicothe, OH
Chillicothe, OH
15.733
13
7
D4
Dave Jamison
15.734
14
10
22
Spencer Flowers Grove City, OH
Grove City, OH
15.767
15
6
52
Brian Whiteman New Plymouth, OH
New Plymouth, OH
15.809
16
4
07
Larry Bond Coolville, OH
Coolville, OH
15.829
17
5
99
Seth Chaney Chillicothe, OH
Chillicothe, OH
15.867
18
22
32
Chad Roush Reedsville, OH
Reedsville, OH
16.065
19
16
11
Jesse Rupe Sophia, WV
Sophia, WV
16.140
20
1
12S
Brad Stone Reedsville, OH
Reedsville, OH
16.282
21
18
23
Bob Crace Chillicothe, OH
Chillicothe, OH
16.431
22
21
55S
Jim Szekacs Columbus, OH
Columbus, OH
16.497
23
8
35
Adam Stricker Batavia, OH
Batavia, OH
16.916
24
23
18
Miles Cook Sr Wheelersburg, OH
Wheelersburg, OH
16.916
IMCA RaceSaver 305
Finish
Start
#
Competitor
Hometown
+/-
1
2
78
Justin Clark Hamersville, OH
Hamersville, OH
1
2
3
21B
Brandon McClain Indian Trail, NC
Indian Trail, NC
1
3
4
79
Chris Miller Chillicothe, OH
Chillicothe, OH
1
4
5
14S
Jacob Stickle Xenia, OH
Xenia, OH
1
5
1
9K
Kyle Kruger Frankfort, OH
Frankfort, OH
-4
6
6
16E
Caleb Erwin Marysville, OH
Marysville, OH
-
7
8
17P
Austin Powell Wilmington, OH
Wilmington, OH
1
8
11
67
Jacob McLain Hemby Bridge, NC
Hemby Bridge, NC
3
9
9
8C
Lewie Christian West Jefferson, OH
West Jefferson, OH
-
10
10
22J
Joe Allagree Chillicothe, OH
Chillicothe, OH
-
11
16
97
Chad Hyatt Sr. Ashville, OH
Ashville, OH
5
12
13
11J
James Moore Marysville, OH
Marysville, OH
1
13
7
4T
Dylan Troyer Urbana, OH
Urbana, OH
-6
14
17
A79
Ashley Tackett Waverly, OH
Waverly, OH
3
15
18
12C
Tadd Clary Chllicothe, OH
Chllicothe, OH
3
16
15
1H
Hunter Young Orient, OH
Orient, OH
-1
17
12
21G
Roman Gephart New Lebanon, OH
New Lebanon, OH
-5
18
14
9
Matt Warner West Salem, OH
West Salem, OH
-4
Finish
Start
#
Competitor
Hometown
+/-
1
1
21B
Brandon McClain Indian Trail, NC
Indian Trail, NC
-
2
4
9K
Kyle Kruger Frankfort, OH
Frankfort, OH
2
3
3
16E
Caleb Erwin Marysville, OH
Marysville, OH
-
4
2
4T
Dylan Troyer Urbana, OH
Urbana, OH
-2
5
5
8C
Lewie Christian West Jefferson, OH
West Jefferson, OH
-
6
6
67
Jacob McLain Hemby Bridge, NC
Hemby Bridge, NC
-
7
7
11J
James Moore Marysville, OH
Marysville, OH
-
8
9
1H
Hunter Young Orient, OH
Orient, OH
1
9
8
A79
Ashley Tackett Waverly, OH
Waverly, OH
-1
All transfer
Finish
Start
#
Competitor
Hometown
+/-
1
2
78
Justin Clark Hamersville, OH
Hamersville, OH
1
2
3
14S
Jacob Stickle Xenia, OH
Xenia, OH
1
3
1
79
Chris Miller Chillicothe, OH
Chillicothe, OH
-2
4
4
17P
Austin Powell Wilmington, OH
Wilmington, OH
-
5
5
22J
Joe Allagree Chillicothe, OH
Chillicothe, OH
-
6
6
21G
Roman Gephart New Lebanon, OH
New Lebanon, OH
-
7
7
9
Matt Warner West Salem, OH
West Salem, OH
-
8
8
97
Chad Hyatt Sr. Ashville, OH
Ashville, OH
-
9
9
12C
Tadd Clary Chllicothe, OH
Chllicothe, OH
-
All transfer
Finish
Start
#
Competitor
Hometown
Time
1
2
21B
Brandon McClain Indian Trail, NC
Indian Trail, NC
13.193
2
4
79
Chris Miller Chillicothe, OH
Chillicothe, OH
13.379
3
6
4T
Dylan Troyer Urbana, OH
Urbana, OH
13.432
4
17
78
Justin Clark Hamersville, OH
Hamersville, OH
13.567
5
11
16E
Caleb Erwin Marysville, OH
Marysville, OH
13.643
6
12
14S
Jacob Stickle Xenia, OH
Xenia, OH
13.654
7
10
9K
Kyle Kruger Frankfort, OH
Frankfort, OH
13.736
8
9
17P
Austin Powell Wilmington, OH
Wilmington, OH
13.771
9
16
8C
Lewie Christian West Jefferson, OH
West Jefferson, OH
13.798
10
15
22J
Joe Allagree Chillicothe, OH
Chillicothe, OH
14.066
11
3
67
Jacob McLain Hemby Bridge, NC
Hemby Bridge, NC
14.089
12
5
21G
Roman Gephart New Lebanon, OH
New Lebanon, OH
14.125
13
14
11J
James Moore Marysville, OH
Marysville, OH
14.156
14
13
9
Matt Warner West Salem, OH
West Salem, OH
14.181
15
8
A79
Ashley Tackett Waverly, OH
Waverly, OH
14.203
16
7
97
Chad Hyatt Sr. Ashville, OH
Ashville, OH
14.854
17
18
1H
Hunter Young Orient, OH
Orient, OH
14.868
18
1
12C
Tadd Clary Chllicothe, OH
Chllicothe, OH
15.963
Big E's Landscaping SCDRA Sport Compacts
Finish
Start
#
Competitor
Hometown
+/-
1
2
27
Darrell Newman Frankfort, OH
Frankfort, OH
1
2
1
7
Conard Newman Frankfort, OH
Frankfort, OH
-1
3
3
123
Matt Large Bainbridge, OH
Bainbridge, OH
-
Finish
Start
#
Competitor
Hometown
Time
1
3
7
Conard Newman Frankfort, OH
Frankfort, OH
2
2
27
Darrell Newman Frankfort, OH
Frankfort, OH
3
1
123
Matt Large Bainbridge, OH
Bainbridge, OH