Atomic Hosts, March 18, Lucas Oil Late Models Buckeye Spring 50, then March 19, OVSCA Sprints

Atomic Speedway host the World of Outlaw Sprints, Saturday, May 28th.

Atomic Speedway, Saturday, May 28th, World Of Outlaws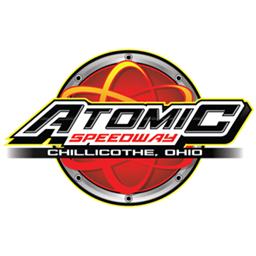 6/4/2022 - Atomic Speedway
Chillicothe, OH
Atomic Speedways George Fisher, 24th Annual Freedom 40
Atomic Speedway begins an annual tradition in one of the great pioneers of Sprint Car racing, George Fisher. Join us in welcoming back the All Star Circuit of Champions for an amazing night of open wheel action.
Ohio Heating 410 Sprints

38 entries

All Star Circuit of Champions

Holdren Construction Limited Late Models

4 entries

C&M Racing Equipment Sport Mods

27 entries

IMCA RaceSaver 305
Full Event Information on MyRacePass
Ohio Heating 410 Sprints
Finish
Start
#
Competitor
Hometown
+/-
1
5
22
Cole Duncan Circleville, OH
Circleville, OH
4
2
3
5T
Travis Philo Waterville, OH
Waterville, OH
1
3
13
7BC
Tyler Courtney Indianapolis, IN
Indianapolis, IN
10
4
11
4X
Danny Smith Chillicothe, OH
Chillicothe, OH
7
5
15
101
Cale Thomas Fairland, IN
Fairland, IN
10
6
21
59
Bryan Nuckles Orient, OH
Orient, OH
15
7
9
91
Kyle Reinhardt Neptune City, NJ
Neptune City, NJ
2
8
18
5J
Jake Hesson Marysville, OH
Marysville, OH
10
9
17
49X
Ian Madsen St Marys, NSW
St Marys, NSW
8
10
24
11N
Paul McMahan Nashville, TN
Nashville, TN
14
11
22
A79
Brandon Wimmer Fairmount, IN
Fairmount, IN
11
12
16
22B
Ryan Broughton Bainbridge, OH
Bainbridge, OH
4
13
14
13
Justin Peck Monrovia, IN
Monrovia, IN
1
14
2
55
Hunter Schuerenberg Sikeston, MO
Sikeston, MO
-12
15
7
7
Scott Bogucki Mclaren Vale, SA
Mclaren Vale, SA
-8
16
1
11
Parker Price-Miller Kokomo, IN
Kokomo, IN
-15
17
8
17B
Bill Balog North Pole, AK
North Pole, AK
-9
18
4
4
Cap Henry Bellevue, OH
Bellevue, OH
-14
19
12
19
Chris Windom Canton, IL
Canton, IL
-7
20
10
101A
Lachlan McHugh Gold Coast, QLD
Gold Coast, QLD
-10
21
19
35R
Ron Blair Troy, OH
Troy, OH
-2
22 DNF
6
47X
Dylan Westbrook Scotland, ON
Scotland, ON
-16
23 DNF
23
10
Zeb Wise Angola, IN
Angola, IN
-
24 DNF
20
26
Cory Eliason Visalia, CA
Visalia, CA
-4
12 Laps
B FeatureClassic Ink USA
Finish
Start
#
Competitor
Hometown
+/-
1
7
59
Bryan Nuckles Orient, OH
Orient, OH
6
2
2
A79
Brandon Wimmer Fairmount, IN
Fairmount, IN
-
3
1
10
Zeb Wise Angola, IN
Angola, IN
-2
4
6
11N
Paul McMahan Nashville, TN
Nashville, TN
2
5
14
97
Greg Wilson Benton Ridge, OH
Benton Ridge, OH
9
6
8
17
Carson Short Marion, IL
Marion, IL
2
7
15
99
Skylar Gee Leduc, AB
Leduc, AB
8
8
3
28
Brandon Spithaler Butler, PA
Butler, PA
-5
9
5
9
Lance Webb Waynesville, OH
Waynesville, OH
-4
10
4
1B
Keith Baxter Chillicothe, OH
Chillicothe, OH
-6
11
9
71
Kevin Thomas Jr Cullman, AL
Cullman, AL
-2
12
12
08
Brandon Conkel Stoutsville, OH
Stoutsville, OH
-
13
10
2
Nathan Skaggs Circleville, OH
Circleville, OH
-3
14
11
83X
Nate Reeser Circleville, OH
Circleville, OH
-3
15
17
5
Benjamin Webb Blacklick, OH
Blacklick, OH
2
16
16
24
Lee Haskins Chillicothe, OH
Chillicothe, OH
-
17 DNF
18
40
Logan Fenton Hillsboro, OH
Hillsboro, OH
1
DNS
13
18
Cole Macedo Lemoore, CA
Lemoore, CA
-
6 Laps
DashElliott's Custom Trailers and Carts
Finish
Start
#
Competitor
Hometown
+/-
1
1
11
Parker Price-Miller Kokomo, IN
Kokomo, IN
-
2
2
55
Hunter Schuerenberg Sikeston, MO
Sikeston, MO
-
3
3
5T
Travis Philo Waterville, OH
Waterville, OH
-
4
6
4
Cap Henry Bellevue, OH
Bellevue, OH
2
5
8
22
Cole Duncan Circleville, OH
Circleville, OH
3
6
4
47X
Dylan Westbrook Scotland, ON
Scotland, ON
-2
7
7
7
Scott Bogucki Mclaren Vale, SA
Mclaren Vale, SA
-
8
5
17B
Bill Balog North Pole, AK
North Pole, AK
-3
8 Laps
Heat 1Hunt Brothers Pizza
Finish
Start
#
Competitor
Hometown
+/-
1
1
7
Scott Bogucki Mclaren Vale, SA
Mclaren Vale, SA
-
2
4
47X
Dylan Westbrook Scotland, ON
Scotland, ON
2
3
2
4X
Danny Smith Chillicothe, OH
Chillicothe, OH
-1
4
5
22B
Ryan Broughton Bainbridge, OH
Bainbridge, OH
1
5
3
5J
Jake Hesson Marysville, OH
Marysville, OH
-2
6
8
1B
Keith Baxter Chillicothe, OH
Chillicothe, OH
2
7
7
59
Bryan Nuckles Orient, OH
Orient, OH
-
8
6
2
Nathan Skaggs Circleville, OH
Circleville, OH
-2
9
9
24
Lee Haskins Chillicothe, OH
Chillicothe, OH
-
10
10
40
Logan Fenton Hillsboro, OH
Hillsboro, OH
-
Finish
Start
#
Competitor
Hometown
+/-
1
1
22
Cole Duncan Circleville, OH
Circleville, OH
-
2
2
91
Kyle Reinhardt Neptune City, NJ
Neptune City, NJ
-
3
4
11
Parker Price-Miller Kokomo, IN
Kokomo, IN
1
4
6
13
Justin Peck Monrovia, IN
Monrovia, IN
2
5
3
49X
Ian Madsen St Marys, NSW
St Marys, NSW
-2
6
5
10
Zeb Wise Angola, IN
Angola, IN
-1
7
8
11N
Paul McMahan Nashville, TN
Nashville, TN
1
8
7
A79
Brandon Wimmer Fairmount, IN
Fairmount, IN
-1
9
9
97
Greg Wilson Benton Ridge, OH
Benton Ridge, OH
-
10
10
5
Benjamin Webb Blacklick, OH
Blacklick, OH
-
8 Laps
Heat 3All Pro Aluminum Cylinder Heads
Finish
Start
#
Competitor
Hometown
+/-
1
1
4
Cap Henry Bellevue, OH
Bellevue, OH
-
2
6
101A
Lachlan McHugh Gold Coast, QLD
Gold Coast, QLD
4
3
2
19
Chris Windom Canton, IL
Canton, IL
-1
4
4
5T
Travis Philo Waterville, OH
Waterville, OH
-
5
3
35R
Ron Blair Troy, OH
Troy, OH
-2
6
9
71
Kevin Thomas Jr Cullman, AL
Cullman, AL
3
7
8
9
Lance Webb Waynesville, OH
Waynesville, OH
1
8
7
83X
Nate Reeser Circleville, OH
Circleville, OH
-1
9
5
18
Cole Macedo Lemoore, CA
Lemoore, CA
-4
Finish
Start
#
Competitor
Hometown
+/-
1
1
55
Hunter Schuerenberg Sikeston, MO
Sikeston, MO
-
2
4
17B
Bill Balog North Pole, AK
North Pole, AK
2
3
5
7BC
Tyler Courtney Indianapolis, IN
Indianapolis, IN
2
4
2
101
Cale Thomas Fairland, IN
Fairland, IN
-2
5
3
26
Cory Eliason Visalia, CA
Visalia, CA
-2
6
6
28
Brandon Spithaler Butler, PA
Butler, PA
-
7
8
17
Carson Short Marion, IL
Marion, IL
1
8
9
08
Brandon Conkel Stoutsville, OH
Stoutsville, OH
1
9
7
99
Skylar Gee Leduc, AB
Leduc, AB
-2
Finish
Start
#
Competitor
Hometown
Time
1
15
11
Parker Price-Miller Kokomo, IN
Kokomo, IN
11.398
2
1
47X
Dylan Westbrook Scotland, ON
Scotland, ON
11.414
3
14
22
Cole Duncan Circleville, OH
Circleville, OH
11.502
4
12
91
Kyle Reinhardt Neptune City, NJ
Neptune City, NJ
11.545
5
18
49X
Ian Madsen St Marys, NSW
St Marys, NSW
11.555
6
13
10
Zeb Wise Angola, IN
Angola, IN
11.576
7
8
7
Scott Bogucki Mclaren Vale, SA
Mclaren Vale, SA
11.601
8
30
17B
Bill Balog North Pole, AK
North Pole, AK
11.686
9
37
55
Hunter Schuerenberg Sikeston, MO
Sikeston, MO
11.693
10
20
13
Justin Peck Monrovia, IN
Monrovia, IN
11.729
11
21
5T
Travis Philo Waterville, OH
Waterville, OH
11.751
12
11
A79
Brandon Wimmer Fairmount, IN
Fairmount, IN
11.754
13
27
4
Cap Henry Bellevue, OH
Bellevue, OH
11.778
14
5
4X
Danny Smith Chillicothe, OH
Chillicothe, OH
11.785
15
23
19
Chris Windom Canton, IL
Canton, IL
11.800
16
2
5J
Jake Hesson Marysville, OH
Marysville, OH
11.827
17
38
101
Cale Thomas Fairland, IN
Fairland, IN
11.846
18
19
11N
Paul McMahan Nashville, TN
Nashville, TN
11.847
19
26
35R
Ron Blair Troy, OH
Troy, OH
11.865
20
34
26
Cory Eliason Visalia, CA
Visalia, CA
11.889
21
36
7BC
Tyler Courtney Indianapolis, IN
Indianapolis, IN
11.906
22
9
22B
Ryan Broughton Bainbridge, OH
Bainbridge, OH
11.921
23
4
2
Nathan Skaggs Circleville, OH
Circleville, OH
11.937
24
10
59
Bryan Nuckles Orient, OH
Orient, OH
11.944
25
29
18
Cole Macedo Lemoore, CA
Lemoore, CA
11.953
26
17
97
Greg Wilson Benton Ridge, OH
Benton Ridge, OH
11.977
27
35
28
Brandon Spithaler Butler, PA
Butler, PA
12.077
28
31
99
Skylar Gee Leduc, AB
Leduc, AB
12.161
29
6
1B
Keith Baxter Chillicothe, OH
Chillicothe, OH
12.180
30
33
17
Carson Short Marion, IL
Marion, IL
12.368
31
25
101A
Lachlan McHugh Gold Coast, QLD
Gold Coast, QLD
12.371
32
28
83X
Nate Reeser Circleville, OH
Circleville, OH
12.534
33
3
24
Lee Haskins Chillicothe, OH
Chillicothe, OH
12.559
34
32
08
Brandon Conkel Stoutsville, OH
Stoutsville, OH
12.590
35
16
5
Benjamin Webb Blacklick, OH
Blacklick, OH
12.919
36
22
9
Lance Webb Waynesville, OH
Waynesville, OH
13.129
37
7
40
Logan Fenton Hillsboro, OH
Hillsboro, OH
13.137
38
24
71
Kevin Thomas Jr Cullman, AL
Cullman, AL
59.999
Holdren Construction Limited Late Models
Finish
Start
#
Competitor
Hometown
Time
1
4
45
Russ Frohnapfel Columbus, OH
Columbus, OH
14.869
2
1
17R
Jesse Lyons Jr Franklin Furnace, OH
Franklin Furnace, OH
15.027
3
3
90
Vern Lefevers Cincinnati, OH
Cincinnati, OH
15.261
4
2
144
Austin Seelig Millersport, OH
Millersport, OH
16.376
All transfer
C&M Racing Equipment Sport Mods
Finish
Start
#
Competitor
Hometown
+/-
1
3
5
Landon Barker Chillicothe, OH
Chillicothe, OH
2
2
1
3P
Kyle Payne Chillicothe, OH
Chillicothe, OH
-1
3
2
42A
Jamey Adams Laurelville, OH
Laurelville, OH
-1
4
4
601
Joshua Harrington Chillicothe, OH
Chillicothe, OH
-
5
5
12
Joseph Buskirk Bainbridge, OH
Bainbridge, OH
-
6
7
51A
Davey Akers Welston, OH
Welston, OH
1
7
9
23
Bob Crace Chillicothe, OH
Chillicothe, OH
2
8
6
711
Adam Jones Chillicothe, OH
Chillicothe, OH
-2
9
8
16
JD Broughton Waverly, OH
Waverly, OH
-1
10
16
62C
Jeff Conrad Chillicothe, OH
Chillicothe, OH
6
11
19
9
Sean Roberts Gallipolis, OH
Gallipolis, OH
8
12
13
14
Jackson Robbins Birmingham, AL
Birmingham, AL
1
13
12
8
Chris Hopkins Waverly, OH
Waverly, OH
-1
14
17
2
Austin Barker Waverly, OH
Waverly, OH
3
15
20
62
Brian Williams Chillicothe, OH
Chillicothe, OH
5
16
18
4J
James Cox Pedro, OH
Pedro, OH
2
17
10
73
Tonka Harris Beaver, OH
Beaver, OH
-7
18
11
4D
Shanon Davis Waverly, OH
Waverly, OH
-7
19
21
772
Joe Williams Chillicothe, OH
Chillicothe, OH
2
20
15
11S
Sterling Packer New Albany, OH
New Albany, OH
-5
21
14
95
Chris Jenkins Waverly, OH
Waverly, OH
-7
Finish
Start
#
Competitor
Hometown
+/-
1
1
62C
Jeff Conrad Chillicothe, OH
Chillicothe, OH
-
2
2
2
Austin Barker Waverly, OH
Waverly, OH
-
3
4
4J
James Cox Pedro, OH
Pedro, OH
1
4
5
9
Sean Roberts Gallipolis, OH
Gallipolis, OH
1
5
7
62
Brian Williams Chillicothe, OH
Chillicothe, OH
2
Top 5 transfer
6
9
772
Joe Williams Chillicothe, OH
Chillicothe, OH
3
DNS
3
M17
Matt Stewart Wellston, OH
Wellston, OH
-
DNS
12
2S
Michael Stevens Waverly, OH
Waverly, OH
-
DNS
8
33
Gary Park Chillicothe, OH
Chillicothe, OH
-
DNS
6
115
Aaron Merrill Jackson, OH
Jackson, OH
-
DNS
10
17
Nick McNichols Ray, OH
Ray, OH
-
DNS
11
6M
Bill Malone Chillicothe, OH
Chillicothe, OH
-
Finish
Start
#
Competitor
Hometown
+/-
1
2
3P
Kyle Payne Chillicothe, OH
Chillicothe, OH
1
2
3
601
Joshua Harrington Chillicothe, OH
Chillicothe, OH
1
3
1
51A
Davey Akers Welston, OH
Welston, OH
-2
4
4
73
Tonka Harris Beaver, OH
Beaver, OH
-
5
6
14
Jackson Robbins Birmingham, AL
Birmingham, AL
1
Top 5 transfer
6
5
62C
Jeff Conrad Chillicothe, OH
Chillicothe, OH
-1
7
7
4J
James Cox Pedro, OH
Pedro, OH
-
8
8
62
Brian Williams Chillicothe, OH
Chillicothe, OH
-
DNS
9
17
Nick McNichols Ray, OH
Ray, OH
-
Finish
Start
#
Competitor
Hometown
+/-
1
1
42A
Jamey Adams Laurelville, OH
Laurelville, OH
-
2
2
12
Joseph Buskirk Bainbridge, OH
Bainbridge, OH
-
3
5
16
JD Broughton Waverly, OH
Waverly, OH
2
4
6
4D
Shanon Davis Waverly, OH
Waverly, OH
2
5
7
95
Chris Jenkins Waverly, OH
Waverly, OH
2
Top 5 transfer
6
9
2
Austin Barker Waverly, OH
Waverly, OH
3
7
3
9
Sean Roberts Gallipolis, OH
Gallipolis, OH
-4
8
4
33
Gary Park Chillicothe, OH
Chillicothe, OH
-4
DNS
8
6M
Bill Malone Chillicothe, OH
Chillicothe, OH
-
Finish
Start
#
Competitor
Hometown
+/-
1
1
5
Landon Barker Chillicothe, OH
Chillicothe, OH
-
2
3
711
Adam Jones Chillicothe, OH
Chillicothe, OH
1
3
2
23
Bob Crace Chillicothe, OH
Chillicothe, OH
-1
4
4
8
Chris Hopkins Waverly, OH
Waverly, OH
-
5
5
11S
Sterling Packer New Albany, OH
New Albany, OH
-
Top 5 transfer
6
6
M17
Matt Stewart Wellston, OH
Wellston, OH
-
7
7
115
Aaron Merrill Jackson, OH
Jackson, OH
-
8
8
772
Joe Williams Chillicothe, OH
Chillicothe, OH
-
9
9
2S
Michael Stevens Waverly, OH
Waverly, OH
-
Finish
Start
#
Competitor
Hometown
Time
1
12
51A
Davey Akers Welston, OH
Welston, OH
15.534
2
20
42A
Jamey Adams Laurelville, OH
Laurelville, OH
15.910
3
2
5
Landon Barker Chillicothe, OH
Chillicothe, OH
16.040
4
18
3P
Kyle Payne Chillicothe, OH
Chillicothe, OH
16.145
5
17
12
Joseph Buskirk Bainbridge, OH
Bainbridge, OH
16.215
6
26
23
Bob Crace Chillicothe, OH
Chillicothe, OH
16.292
7
24
601
Joshua Harrington Chillicothe, OH
Chillicothe, OH
16.350
8
14
9
Sean Roberts Gallipolis, OH
Gallipolis, OH
16.389
9
5
711
Adam Jones Chillicothe, OH
Chillicothe, OH
16.509
10
4
73
Tonka Harris Beaver, OH
Beaver, OH
16.538
11
23
33
Gary Park Chillicothe, OH
Chillicothe, OH
16.556
12
19
8
Chris Hopkins Waverly, OH
Waverly, OH
16.567
13
1
62C
Jeff Conrad Chillicothe, OH
Chillicothe, OH
16.652
14
25
16
JD Broughton Waverly, OH
Waverly, OH
16.730
15
10
11S
Sterling Packer New Albany, OH
New Albany, OH
16.854
16
7
14
Jackson Robbins Birmingham, AL
Birmingham, AL
16.869
17
6
4D
Shanon Davis Waverly, OH
Waverly, OH
17.024
18
9
M17
Matt Stewart Wellston, OH
Wellston, OH
17.124
19
27
4J
James Cox Pedro, OH
Pedro, OH
17.186
20
3
95
Chris Jenkins Waverly, OH
Waverly, OH
17.189
21
8
115
Aaron Merrill Jackson, OH
Jackson, OH
17.696
22
16
62
Brian Williams Chillicothe, OH
Chillicothe, OH
17.775
23
21
6M
Bill Malone Chillicothe, OH
Chillicothe, OH
17.809
24
15
772
Joe Williams Chillicothe, OH
Chillicothe, OH
17.935
25
11
17
Nick McNichols Ray, OH
Ray, OH
17.942
26
13
2
Austin Barker Waverly, OH
Waverly, OH
18.195
27
22
2S
Michael Stevens Waverly, OH
Waverly, OH
35.379