Atomic Hosts, March 18, Lucas Oil Late Models Buckeye Spring 50, then March 19, OVSCA Sprints

Atomic Speedway host the World of Outlaw Sprints, Saturday, May 28th.

Atomic Speedway, Saturday, May 28th, World Of Outlaws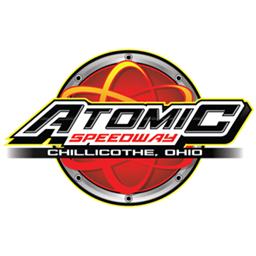 4/22/2022 - Atomic Speedway
Chillicothe, OH
Atomic Outlaw Invasion Weekend - World of Outlaw Late Models
OUTLAW INVASION 2022!!!
$10,000 - WoO Late Models
$600 - Sport Mods
FUN - Legends
NO REFUNDS!
RAIN CHECKS WILL BE HONORED WITH TIX OF SAME OF LESSER VALUE. NO REFUNDS OR CREDITS WILL BE GIVEN FOR ANY REASON WHATSOEVER.
Impact Race Gear Late Models

35 entries

World of Outlaws - Late Models

C&M Racing Equipment Sport Mods

23 entries

Southern Ohio Legends

23 entries
Full Event Information on MyRacePass
Impact Race Gear Late Models
40 Laps
Case Construction Feature
Finish
Start
#
Competitor
Hometown
+/-
1
1
1T
Tyler Erb New Waverly, TX
New Waverly, TX
-
2
3
11R
Josh Rice Verona, KY
Verona, KY
1
3
9
81E
Tanner English Benton, KY
Benton, KY
6
4
12
28
Dennis Erb Jr Carpentersville, IL
Carpentersville, IL
8
5
6
37
Jacob Hawkins Fairmont, WV
Fairmont, WV
1
6
15
111V
Max Blair Centerville, PA
Centerville, PA
9
7
7
71
Hudson O'Neal Martinsville, IN
Martinsville, IN
-
8
4
9
Devin Moran Dresden, OH
Dresden, OH
-4
9
10
29
Darrell Lanigan Union, KY
Union, KY
1
10
8
1R
Josh Richards Houston, OH
Houston, OH
-2
11
5
19R
Ryan Gustin Marshalltown, IA
Marshalltown, IA
-6
12
24
11
Gordy Gundaker St. Charles, MO
St. Charles, MO
12
13
17
C9
Steve Casebolt Richmond, IN
Richmond, IN
4
14
13
B1
Brent Larson Lake Elmo, MN
Lake Elmo, MN
-1
15
19
99
Chub Frank Bear Lake, PA
Bear Lake, PA
4
16
23
16
Tyler Bruening Decorah, IA
Decorah, IA
7
17
16
29C
Clint Keenan Pataskala, OH
Pataskala, OH
-1
18
11
99B
Boom Briggs Bear Lake, PA
Bear Lake, PA
-7
19
21
95
Jerry Bowersock Wapakoneta, OH
Wapakoneta, OH
2
20
20
45
Kyle Hammer Clinton, IL
Clinton, IL
-
21
14
53C
Andy Bond Coolville, OH
Coolville, OH
-7
22
25
20
Todd Brennan Zanesville, OH
Zanesville, OH
3
23
22
44H
Dave Hess Jr Waterford, PA
Waterford, PA
-1
24
18
1AM
Austyn Mills Cincinnati, OH
Cincinnati, OH
-6
DQ
2
1
Brandon Sheppard New Berlin, IL
New Berlin, IL
-
10 Laps
Last Chance Showdown 1
Finish
Start
#
Competitor
Hometown
+/-
1
1
C9
Steve Casebolt Richmond, IN
Richmond, IN
-
2
2
99
Chub Frank Bear Lake, PA
Bear Lake, PA
-
3
4
95
Jerry Bowersock Wapakoneta, OH
Wapakoneta, OH
1
Top 3 transfer
4
6
99JR
Frank Heckenast Jr Frankfort, IL
Frankfort, IL
2
5
9
16
Tyler Bruening Decorah, IA
Decorah, IA
4
6
8
15
Justin Duty Mulino, OR
Mulino, OR
2
7
5
18
Trevor Landrum Florence, KY
Florence, KY
-2
8
3
511
Chris Lockhart Huntington, WV
Huntington, WV
-5
9
7
20TC
Tristan Chamberlain Richmond, IN
Richmond, IN
-2
10
10
354
Chris Nash Portage, MI
Portage, MI
-
10 Laps
Last Chance Showdown 2
Finish
Start
#
Competitor
Hometown
+/-
1
1
1AM
Austyn Mills Cincinnati, OH
Cincinnati, OH
-
2
2
45
Kyle Hammer Clinton, IL
Clinton, IL
-
3
5
44H
Dave Hess Jr Waterford, PA
Waterford, PA
2
Top 3 transfer
4
7
71R
Rod Conley Wheelersburg, OH
Wheelersburg, OH
3
5
3
11H
Jared Hawkins Fairmont, WV
Fairmont, WV
-2
6
8
11
Gordy Gundaker St. Charles, MO
St. Charles, MO
2
7
9
6
Travis Carr Stoutsville, OH
Stoutsville, OH
2
8
4
21
William Phillips Ashland, KY
Ashland, KY
-4
9
6
20
Todd Brennan Zanesville, OH
Zanesville, OH
-3
Finish
Start
#
Competitor
Hometown
+/-
1
1
9
Devin Moran Dresden, OH
Dresden, OH
-
2
2
71
Hudson O'Neal Martinsville, IN
Martinsville, IN
-
3
4
81E
Tanner English Benton, KY
Benton, KY
1
4
5
B1
Brent Larson Lake Elmo, MN
Lake Elmo, MN
1
Top 4 transfer
5
3
C9
Steve Casebolt Richmond, IN
Richmond, IN
-2
6
9
511
Chris Lockhart Huntington, WV
Huntington, WV
3
7
8
18
Trevor Landrum Florence, KY
Florence, KY
1
8
7
20TC
Tristan Chamberlain Richmond, IN
Richmond, IN
-1
9
6
16
Tyler Bruening Decorah, IA
Decorah, IA
-3
Finish
Start
#
Competitor
Hometown
+/-
1
2
11R
Josh Rice Verona, KY
Verona, KY
1
2
3
1R
Josh Richards Houston, OH
Houston, OH
1
3
1
99B
Boom Briggs Bear Lake, PA
Bear Lake, PA
-2
4
7
111V
Max Blair Centerville, PA
Centerville, PA
3
Top 4 transfer
5
5
99
Chub Frank Bear Lake, PA
Bear Lake, PA
-
6
6
95
Jerry Bowersock Wapakoneta, OH
Wapakoneta, OH
-
7
8
99JR
Frank Heckenast Jr Frankfort, IL
Frankfort, IL
1
8
4
15
Justin Duty Mulino, OR
Mulino, OR
-4
9
9
354
Chris Nash Portage, MI
Portage, MI
-
Finish
Start
#
Competitor
Hometown
+/-
1
1
1
Brandon Sheppard New Berlin, IL
New Berlin, IL
-
2
3
19R
Ryan Gustin Marshalltown, IA
Marshalltown, IA
1
3
2
29
Darrell Lanigan Union, KY
Union, KY
-1
4
4
53C
Andy Bond Coolville, OH
Coolville, OH
-
Top 4 transfer
5
5
1AM
Austyn Mills Cincinnati, OH
Cincinnati, OH
-
6
8
11H
Jared Hawkins Fairmont, WV
Fairmont, WV
2
7
6
44H
Dave Hess Jr Waterford, PA
Waterford, PA
-1
8
7
71R
Rod Conley Wheelersburg, OH
Wheelersburg, OH
-1
9
9
6
Travis Carr Stoutsville, OH
Stoutsville, OH
-
Finish
Start
#
Competitor
Hometown
+/-
1
1
1T
Tyler Erb New Waverly, TX
New Waverly, TX
-
2
2
37
Jacob Hawkins Fairmont, WV
Fairmont, WV
-
3
3
28
Dennis Erb Jr Carpentersville, IL
Carpentersville, IL
-
4
5
29C
Clint Keenan Pataskala, OH
Pataskala, OH
1
Top 4 transfer
5
4
45
Kyle Hammer Clinton, IL
Clinton, IL
-1
6
7
21
William Phillips Ashland, KY
Ashland, KY
1
7
8
20
Todd Brennan Zanesville, OH
Zanesville, OH
1
8
6
11
Gordy Gundaker St. Charles, MO
St. Charles, MO
-2
Finish
Start
#
Competitor
Hometown
Time
1
15
9
Devin Moran Dresden, OH
Dresden, OH
13.349
2
2
99B
Boom Briggs Bear Lake, PA
Bear Lake, PA
13.413
3
8
71
Hudson O'Neal Martinsville, IN
Martinsville, IN
13.444
4
16
11R
Josh Rice Verona, KY
Verona, KY
13.445
5
7
C9
Steve Casebolt Richmond, IN
Richmond, IN
13.447
6
1
1R
Josh Richards Houston, OH
Houston, OH
13.601
7
13
81E
Tanner English Benton, KY
Benton, KY
13.690
8
4
15
Justin Duty Mulino, OR
Mulino, OR
13.740
9
3
B1
Brent Larson Lake Elmo, MN
Lake Elmo, MN
13.762
10
5
99
Chub Frank Bear Lake, PA
Bear Lake, PA
13.777
11
6
16
Tyler Bruening Decorah, IA
Decorah, IA
13.822
12
11
95
Jerry Bowersock Wapakoneta, OH
Wapakoneta, OH
13.947
13
18
20TC
Tristan Chamberlain Richmond, IN
Richmond, IN
13.996
14
9
111V
Max Blair Centerville, PA
Centerville, PA
14.145
15
17
18
Trevor Landrum Florence, KY
Florence, KY
14.161
16
14
99JR
Frank Heckenast Jr Frankfort, IL
Frankfort, IL
14.331
17
10
511
Chris Lockhart Huntington, WV
Huntington, WV
15.020
18
12
354
Chris Nash Portage, MI
Portage, MI
15.831
Finish
Start
#
Competitor
Hometown
Time
1
4
1
Brandon Sheppard New Berlin, IL
New Berlin, IL
13.310
2
10
1T
Tyler Erb New Waverly, TX
New Waverly, TX
13.466
3
15
29
Darrell Lanigan Union, KY
Union, KY
13.493
4
6
37
Jacob Hawkins Fairmont, WV
Fairmont, WV
13.580
5
17
19R
Ryan Gustin Marshalltown, IA
Marshalltown, IA
13.729
6
16
28
Dennis Erb Jr Carpentersville, IL
Carpentersville, IL
13.775
7
5
53C
Andy Bond Coolville, OH
Coolville, OH
13.845
8
8
45
Kyle Hammer Clinton, IL
Clinton, IL
13.857
9
7
1AM
Austyn Mills Cincinnati, OH
Cincinnati, OH
14.016
10
14
29C
Clint Keenan Pataskala, OH
Pataskala, OH
14.026
11
3
44H
Dave Hess Jr Waterford, PA
Waterford, PA
14.094
12
1
11
Gordy Gundaker St. Charles, MO
St. Charles, MO
14.123
13
2
71R
Rod Conley Wheelersburg, OH
Wheelersburg, OH
14.236
14
9
21
William Phillips Ashland, KY
Ashland, KY
14.245
15
12
11H
Jared Hawkins Fairmont, WV
Fairmont, WV
14.265
16
11
20
Todd Brennan Zanesville, OH
Zanesville, OH
14.681
17
13
6
Travis Carr Stoutsville, OH
Stoutsville, OH
15.070
C&M Racing Equipment Sport Mods
Finish
Start
#
Competitor
Hometown
+/-
1
1
42A
Jamey Adams Laurelville, OH
Laurelville, OH
-
2
2
18C
Miles Cook Jr Wheerlersburg, OH
Wheerlersburg, OH
-
3
6
23
Bob Crace Chillicothe, OH
Chillicothe, OH
3
4
5
5
Landon Barker Chillicothe, OH
Chillicothe, OH
1
5
4
3K
Kyle Payne Chillicothe, OH
Chillicothe, OH
-1
6
12
11
Brandon Colley Minford, OH
Minford, OH
6
7
3
51A
Davey Akers Welston, OH
Welston, OH
-4
8
11
13
Emily Jordan
3
9
8
13J
Luke Jordan South Webster, OH
South Webster, OH
-1
10
18
73
Tonka Harris Beaver, OH
Beaver, OH
8
11
17
711
Adam Jones Chillicothe, OH
Chillicothe, OH
6
12
7
10P
Cody Price Jackson, OH
Jackson, OH
-5
13
9
9F
Dave Jamison
-4
14
15
8
Aaron Hopkins Waverly, OH
Waverly, OH
1
15
16
17
Nick McNichols Ray, OH
Ray, OH
1
16
21
2S
Michael Stevens Waverly, OH
Waverly, OH
5
17
19
M17
Matt Stewart Wellston, OH
Wellston, OH
2
18
22
30-30
Camden Houser Chillicothe, OH
Chillicothe, OH
4
19
20
11S
Sterling Packer New Albany, OH
New Albany, OH
1
20
23
62W
Brian Williams Chillicothe, OH
Chillicothe, OH
3
21
10
9K
Kevin Wills Chillicothe, OH
Chillicothe, OH
-11
22
13
16
JD Broughton Waverly, OH
Waverly, OH
-9
23
14
62
Jeff Conrad Chillicothe, OH
Chillicothe, OH
-9
Finish
Start
#
Competitor
Hometown
+/-
1
1
42A
Jamey Adams Laurelville, OH
Laurelville, OH
-
2
2
3K
Kyle Payne Chillicothe, OH
Chillicothe, OH
-
3
3
10P
Cody Price Jackson, OH
Jackson, OH
-
4
5
9K
Kevin Wills Chillicothe, OH
Chillicothe, OH
1
5
4
16
JD Broughton Waverly, OH
Waverly, OH
-1
6
7
17
Nick McNichols Ray, OH
Ray, OH
1
7
6
M17
Matt Stewart Wellston, OH
Wellston, OH
-1
8
8
30-30
Camden Houser Chillicothe, OH
Chillicothe, OH
-
All transfer
Finish
Start
#
Competitor
Hometown
+/-
1
1
18C
Miles Cook Jr Wheerlersburg, OH
Wheerlersburg, OH
-
2
2
5
Landon Barker Chillicothe, OH
Chillicothe, OH
-
3
4
13J
Luke Jordan South Webster, OH
South Webster, OH
1
4
3
13
Emily Jordan
-1
5
6
62
Jeff Conrad Chillicothe, OH
Chillicothe, OH
1
6
5
711
Adam Jones Chillicothe, OH
Chillicothe, OH
-1
7
7
11S
Sterling Packer New Albany, OH
New Albany, OH
-
8
8
62W
Brian Williams Chillicothe, OH
Chillicothe, OH
-
All transfer
Finish
Start
#
Competitor
Hometown
+/-
1
2
51A
Davey Akers Welston, OH
Welston, OH
1
2
1
23
Bob Crace Chillicothe, OH
Chillicothe, OH
-1
3
4
9F
Dave Jamison
1
4
3
11
Brandon Colley Minford, OH
Minford, OH
-1
5
6
8
Aaron Hopkins Waverly, OH
Waverly, OH
1
6
5
73
Tonka Harris Beaver, OH
Beaver, OH
-1
7
7
2S
Michael Stevens Waverly, OH
Waverly, OH
-
All transfer
Finish
Start
#
Competitor
Hometown
Time
1
16
42A
Jamey Adams Laurelville, OH
Laurelville, OH
15.645
2
7
18C
Miles Cook Jr Wheerlersburg, OH
Wheerlersburg, OH
15.945
3
13
23
Bob Crace Chillicothe, OH
Chillicothe, OH
16.008
4
8
3K
Kyle Payne Chillicothe, OH
Chillicothe, OH
16.015
5
14
5
Landon Barker Chillicothe, OH
Chillicothe, OH
16.070
6
9
51A
Davey Akers Welston, OH
Welston, OH
16.085
7
18
10P
Cody Price Jackson, OH
Jackson, OH
16.127
8
12
13
Emily Jordan
16.136
9
22
11
Brandon Colley Minford, OH
Minford, OH
16.211
10
11
16
JD Broughton Waverly, OH
Waverly, OH
16.235
11
15
13J
Luke Jordan South Webster, OH
South Webster, OH
16.296
12
17
9F
Dave Jamison
16.304
13
20
9K
Kevin Wills Chillicothe, OH
Chillicothe, OH
16.447
14
19
711
Adam Jones Chillicothe, OH
Chillicothe, OH
16.712
15
3
73
Tonka Harris Beaver, OH
Beaver, OH
16.761
16
10
M17
Matt Stewart Wellston, OH
Wellston, OH
17.117
17
4
62
Jeff Conrad Chillicothe, OH
Chillicothe, OH
17.261
18
6
8
Aaron Hopkins Waverly, OH
Waverly, OH
17.386
19
23
17
Nick McNichols Ray, OH
Ray, OH
17.460
20
5
11S
Sterling Packer New Albany, OH
New Albany, OH
17.494
21
2
2S
Michael Stevens Waverly, OH
Waverly, OH
17.679
22
1
30-30
Camden Houser Chillicothe, OH
Chillicothe, OH
17.747
23
21
62W
Brian Williams Chillicothe, OH
Chillicothe, OH
18.485
Southern Ohio Legends
Finish
Start
#
Competitor
Hometown
+/-
1
1
92
Aaron Pendleton Jackson, OH
Jackson, OH
-
2
2
21X
Steven Partin Peebles, OH
Peebles, OH
-
3
6
91
Jerren Perdue Peebles, OH
Peebles, OH
3
4
3
82
Ronnie Niehaus Batavia, OH
Batavia, OH
-1
5
5
4T
Tom Partin
-
6
7
8
Blake Skaggs Bainbridge, OH
Bainbridge, OH
1
7
12
1Z
Zach Schuler New Vienna, OH
New Vienna, OH
5
8
16
182
Blake Niehaus Batavia, OH
Batavia, OH
8
9
15
12B
Anthony Bumgarner Peebles, OH
Peebles, OH
6
10
10
7G
John Gutman
-
11
8
8N
Nick Obryant Peebles, OH
Peebles, OH
-3
12
17
3
GREG MAGILL Chillicothe, OH
Chillicothe, OH
5
13
20
26
Ronold Scurlock Circleville, OH
Circleville, OH
7
14
14
M80
Levi Morris Coal Grove, OH
Coal Grove, OH
-
15
18
29W
Jason Wetterburn XXX, OH
XXX, OH
3
16
19
002
Daryl Bumgarner Leesburg, OH
Leesburg, OH
3
17
23
4S
Rob Schuler New Vienna, OH
New Vienna, OH
6
18
22
X
Quade Schoonover Peebles, OH
Peebles, OH
4
19
21
17
CALE MAYBIN Wheelersburg, OH
Wheelersburg, OH
2
20
11
328
Jake Givens Frankfort, OH
Frankfort, OH
-9
21
4
18
Bryce Swango Peebles, OH
Peebles, OH
-17
22
9
4
Garrett Schuler New Vienna, OH
New Vienna, OH
-13
23
13
13
Scott Chaney Chillicothe, OH
Chillicothe, OH
-10
Finish
Start
#
Competitor
Hometown
+/-
1
1
21X
Steven Partin Peebles, OH
Peebles, OH
-
2
2
18
Bryce Swango Peebles, OH
Peebles, OH
-
3
3
8
Blake Skaggs Bainbridge, OH
Bainbridge, OH
-
4
4
7G
John Gutman
-
5
5
13
Scott Chaney Chillicothe, OH
Chillicothe, OH
-
6
6
182
Blake Niehaus Batavia, OH
Batavia, OH
-
7
8
002
Daryl Bumgarner Leesburg, OH
Leesburg, OH
1
8
7
X
Quade Schoonover Peebles, OH
Peebles, OH
-1
All transfer
Finish
Start
#
Competitor
Hometown
+/-
1
1
92
Aaron Pendleton Jackson, OH
Jackson, OH
-
2
2
4T
Tom Partin
-
3
4
8N
Nick Obryant Peebles, OH
Peebles, OH
1
4
3
328
Jake Givens Frankfort, OH
Frankfort, OH
-1
5
6
M80
Levi Morris Coal Grove, OH
Coal Grove, OH
1
6
5
3
GREG MAGILL Chillicothe, OH
Chillicothe, OH
-1
7
8
26
Ronold Scurlock Circleville, OH
Circleville, OH
1
8
7
4S
Rob Schuler New Vienna, OH
New Vienna, OH
-1
All transfer
Finish
Start
#
Competitor
Hometown
+/-
1
1
82
Ronnie Niehaus Batavia, OH
Batavia, OH
-
2
2
91
Jerren Perdue Peebles, OH
Peebles, OH
-
3
4
4
Garrett Schuler New Vienna, OH
New Vienna, OH
1
4
3
1Z
Zach Schuler New Vienna, OH
New Vienna, OH
-1
5
5
12B
Anthony Bumgarner Peebles, OH
Peebles, OH
-
6
7
29W
Jason Wetterburn XXX, OH
XXX, OH
1
7
6
17
CALE MAYBIN Wheelersburg, OH
Wheelersburg, OH
-1
All transfer
Finish
Start
#
Competitor
Hometown
Time
1
15
21X
Steven Partin Peebles, OH
Peebles, OH
17.761
2
14
92
Aaron Pendleton Jackson, OH
Jackson, OH
17.941
3
23
82
Ronnie Niehaus Batavia, OH
Batavia, OH
18.188
4
22
18
Bryce Swango Peebles, OH
Peebles, OH
18.264
5
17
4T
Tom Partin
18.335
6
9
91
Jerren Perdue Peebles, OH
Peebles, OH
18.336
7
19
8
Blake Skaggs Bainbridge, OH
Bainbridge, OH
18.573
8
13
328
Jake Givens Frankfort, OH
Frankfort, OH
18.626
9
4
1Z
Zach Schuler New Vienna, OH
New Vienna, OH
18.719
10
12
7G
John Gutman
18.775
11
6
8N
Nick Obryant Peebles, OH
Peebles, OH
18.930
12
20
4
Garrett Schuler New Vienna, OH
New Vienna, OH
18.964
13
10
13
Scott Chaney Chillicothe, OH
Chillicothe, OH
18.964
14
5
3
GREG MAGILL Chillicothe, OH
Chillicothe, OH
19.071
15
1
12B
Anthony Bumgarner Peebles, OH
Peebles, OH
19.348
16
2
182
Blake Niehaus Batavia, OH
Batavia, OH
19.423
17
18
M80
Levi Morris Coal Grove, OH
Coal Grove, OH
19.496
18
7
17
CALE MAYBIN Wheelersburg, OH
Wheelersburg, OH
19.923
19
21
X
Quade Schoonover Peebles, OH
Peebles, OH
19.985
20
11
4S
Rob Schuler New Vienna, OH
New Vienna, OH
20.077
21
3
29W
Jason Wetterburn XXX, OH
XXX, OH
20.257
22
8
002
Daryl Bumgarner Leesburg, OH
Leesburg, OH
20.431
23
16
26
Ronold Scurlock Circleville, OH
Circleville, OH
20.431