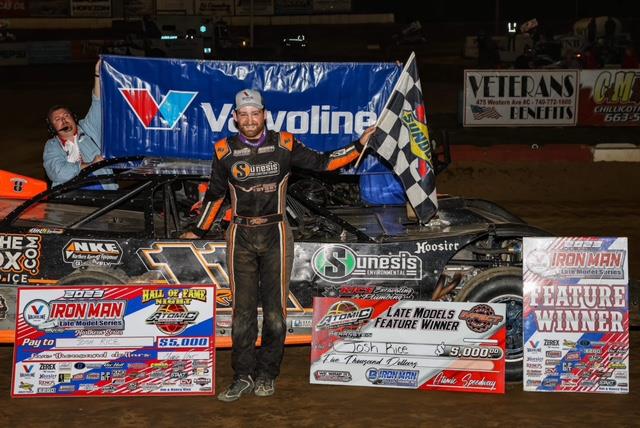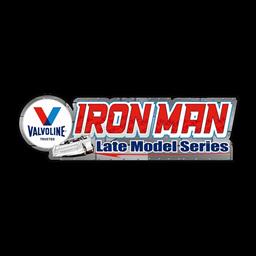 8/19/2023
Iron-Man Late Model Series
---
Josh Rice Rolls to Valvoline Iron-Man Late Model Northern Series Victory on Hall of Fame Night at Atomic Speedway
WAVERLY, OHIO (August 19, 2023)– The Valvoline Iron-Man Late Model Northern Series would make its second visit of the season to Atomic Speedway in Waverly, OH for the track's Hall of Fame Night and Josh Rice of Verona, KY would start eleventh and finish first to claim his fifth Valvoline Iron-Man Late Model Northern Series victory of the season and pick up a $5,000 payday.
Rice, a 25-year-old second generation racer, it would be his fifth series win of the season and his eleventh career Valvoline Iron-Man Late Model Series victory and would come behind the wheel of a Rocket Chassis with a Vic Hill Race Engine with sponsorship from Sunesis Holdings and Construction, BLOX Spiked Ice, Extreme Sportswear, Map It Right Engineering and Land Surveying, Chain Locker USA, Maxwell Trucking, AirMax Motorsports, Northern Kentucky Equipment, M.C. Tank Transport, and Rice Excavating and Plumbing.
R.J. Conley would take the lead at the start of the thirty lap Hall of Fame Night Valvoline A-Main event, with Kirk Phillips, Justin Cooper, Audie Swartz, and Jerry Bowersock giving chase. The front five would remain the same until the first caution of the race waved on lap three when A.J. Hurt would spin in turn four. The restart would see R.J. Conley maintain the lead, with Cooper taking second from Phillips, Bowersock would take fourth, while eleventh-place starter Josh Rice would go from tenth to fifth on the restart. Rice would then roll past Bowersock for the fourth position on lap four. The caution would wave again on lap seven when Hurt would spin in turn one just as race leader Conley was about to catch him and have to start working lapped traffic. The restart would not see a lap completed as Bill Lewis would slow entering turn one. The next attempt at a restart would also come back when Donnie Jeschke would loop his machine on the frontchute and be done for the event. When action finally resumed, R.J. Conley would continue to lead, with Cooper, Phillips, and Rice second through fourth, while Freddie Carpenter would take fifth Bowersock. Phillips would take second from Cooper and bring Rice along with him into third on lap eight, with Rice taking second from Phillps on lap ten as the front trio began work lapped traffic. Rice would continue his assault toward the front when he would slidejob past R.J. Conley in turn four on lap eleven to take the race lead. The caution would appear again on lap fourteen for a spin in turn four by Austin Seelig and on the restart, Rice would continue to show the way, with R.J. Conley second and Phillips third, while Carpenter would claim fourth from Cooper. Rice would stretch his lead to almost four seconds at times during this point in the event until the caution appeared again on lap twenty-six when Bowersock would slow on the backchute with a flat right-rear tire. The restart would not see a full lap completed before Austin Lay and Austin Seelig would tangle on the frontchute, with Lay being done for the remainder of the race. Rice would again maintain the top spot on the restart, but only a couple more laps would be completed when fourth-place running Carpenter would slow exiting turn four with a flat right-rear tire. Rice would maintain the top spot on what would be the final restart of the event and see the checkered flag first, with R.J. Conley taking runner-up honors, while Phillips would come home third. Cooper and Seth Daniels would complete the top five. The remainder of the top ten finishers would be Dave Hornikel, Bill Lewis, Shane Bailey, Ralph Withem, and Rod Conley.
The next event for the Valvoline Iron-Man Late Model Northern Series will be Saturday August 26 at Lake Cumberland Speedway in Burnside, KY for the 12th Annual Harold Hardgrove Memorial paying $15,022 to win and $700 to start. The event will also be a point's race for the Valvoline Iron-Man Late Model Southern Series.
For more information on the Valvoline Iron-Man Late Model Series and Brucebilt Performance Parts Open Wheel Modified Series, phone series promoter Chris Tilley at (828) 361-5981 or by visiting the tour website at www.IMDIRT.net or by following Iron-Man Series (@CTPROMOTE) on Twitter or liking Iron-Man Racing Series on Facebook.
The Valvoline Iron-Man Late Model Series and Brucebilt Performance Parts Iron-Man Open Wheel Modified Series would like to thank the following sponsors and marketing partners for their support of the 2023 racing season: Valvoline, Zerex by Valvoline, Brucebilt Performance Parts, Hoosier Racing Tire, E-Z-GO, Sunoco Race Fuels, Bazell Race Fuels, SFP Performance Systems, MyRacePass, Impact Race Gear, XS Power Batteries, Vic Hill Racing Engines, Racecar Engineering, American Racer Tires, Keltner Contracting, Todd Steel Buildings, TW Taylor Trucking, Earnhardt Technologies Group, Weichert Realtors-Ford Brothers (Judith Dyehouse-Agent), Swafford Signs, KY Clutch, DIRTCAR Racing, Brown Haven Homes, Knowles Race Parts and Bodies, Coosa Heating and Cooling, STAKT Products, KND Safety, Chattanooga Valley Auto Parts, PopBit, Denby's J&J Construction, Jim and Nancy Viox, Advanced Transportation, Lowe's Tows, Reno's Roadhouse, and Racetrack Safety Initiative.
About Valvoline™
Valvoline Inc. (NYSE: VVV) is a leading worldwide marketer and supplier of premium branded lubricants and automotive services, with sales in more than 140 countries. Established in 1866, the company's heritage spans more than 150 years, during which time it has developed powerful brand recognition across multiple product and service channels. Valvoline ranks as the No. 3 passenger car motor oil brand in the DIY market by volume. It operates and franchises approximately 1,400 quick-lube locations, and it is the No. 2 chain by number of stores in the United States under the Valvoline Instant Oil ChangeSM brand and the No. 3 chain by number of stores in Canada under the Valvoline Great Canadian Oil Change brand. It also markets Valvoline lubricants and automotive chemicals, including the Valvoline High Mileage with MaxLife technology motor oil for engines over 75,000 miles; Valvoline Advanced Full Synthetic motor oil; Valvoline Premium Blue™ heavy-duty motor oil; Valvoline Multi-Vehicle Automatic Transmission Fluid; and Zerex™ antifreeze. To learn more, visit www.valvoline.com.
Official Summary of Results
Feature Results for the Valvoline Iron-Man Late Model Northern Series Hall of Fame Night at Atomic Speedway in Waverly, OH on Saturday August 19, 2023
Josh Rice-Verona, Ky.
R.J. Conley-Wheelersburg, Ohio
Kirk Phillips-Ashland, Ky.
Justin Cooper-Wheelersburg, Ohio
Seth Daniels-Jackson, Ohio
Dave Hornikel-Mansfield, Ohio
Bill Lewis-Lynn, Ind.
Shane Bailey-Grayson, Ky.
Ralph Withem-Athens, Ohio
Rod Conley-Wheelersburg, Ohio
Shannon Roese-Ashville, Ohio
Austin Seelig-Millersport, Ohio
Freddie Carpenter-Parkersburg, W.V.
Caiden Black-New Concord, Ohio
Austin Lay-Walton, Ky.
Jerry Bowersock-Wapakoneta, Ohio
Clint Keenan-Pataskala, Ohio
Russell Throckmorton-Chillicothe, Ohio
Mike Wilson-Circleville, Ohio
Audie Swartz-Minford, Ohio
Vern Lefevers-Cincinnati, Ohio
Donnie Jeschke-Dayton, Ohio
A.J. Hurt-Mount Orab, Ohio
DNS-Kevin Layne-Racine, Ohio
Time of Race: 35 minutes, 13 seconds
Margin of Victory: 2.423 seconds
Yellow Flags: Eight (lap 3, 7, 7 restart, 7 restart, 14, 26, 26 restart, 28)
Red Flags: None
Lap Leaders: R.J. Conley 1-10, Josh Rice 11-30
Entries: 24
E-Z-GO Time Trials Top Qualifier: R.J. Conley 13.553 seconds
SFP Performance Systems Hard Charger Award ($100 product certificate): Josh Rice (started 11th-finished 1st-advanced 10 positions)
Provisionals: None
Todd Steel Buildings Heat Race One Finish (8 laps/all transfer): R.J. Conley, Audie Swartz, Seth Daniels, Dave Hornikel, Bill Lewis, Mike Wilson, Shannon Roese, A.J. Hurt
SFP Performance Systems Heat Race Two Finish (8 laps/all transfer): Kirk Phillips, Caiden Black, Rod Conley, Josh Rice, Donnie Jeschke, Shane Bailey, Austin Seelig, Kevin Layne
TW Taylor Trucking Heat Race Three Finish (8 laps/all transfer): Justin Cooper, Jerry Bowersock, Freddie Carpenter, Ralph Withem, Clint Keenan, Austin Lay, Vern Lefevers, Russell Throckmorton
Valvoline Iron-Man Late Model Northern Series 2023 Schedule/Results:
May 26-Ponderosa Speedway-Junction City, KY-Josh Rice (Verona, KY)
May 27-Lake Cumberland Speedway-Burnside, KY-Josh Rice (Verona, KY)
June 17-Lake Cumberland Speedway-Burnside, KY-Josh Rice (Verona, KY)
July 7-Hilltop Speedway-Millersburg, OH-Josh Rice (Verona, KY)
July 22-Atomic Speedway-Waverly, OH-Nick Hoffman (Mooresville, NC)
August 4-Ponderosa Speedway-Junction City, KY-Michael Chilton (Salvisa, KY)
August 19-Atomic Speedway-Waverly, OH-Josh Rice (Verona, KY)
August 26-Lake Cumberland Speedway-Burnside, KY-$15,022 to win
September 16-Atomic Speedway-Waverly, OH-$7,500 to win
October 6-Ponderosa Speedway-Junction City, KY-$5,000 to win
October 7-Ponderosa Speedway-Junction City, KY-$10,088 to win
---
Article Credit: Tyler Carr image
Back to News