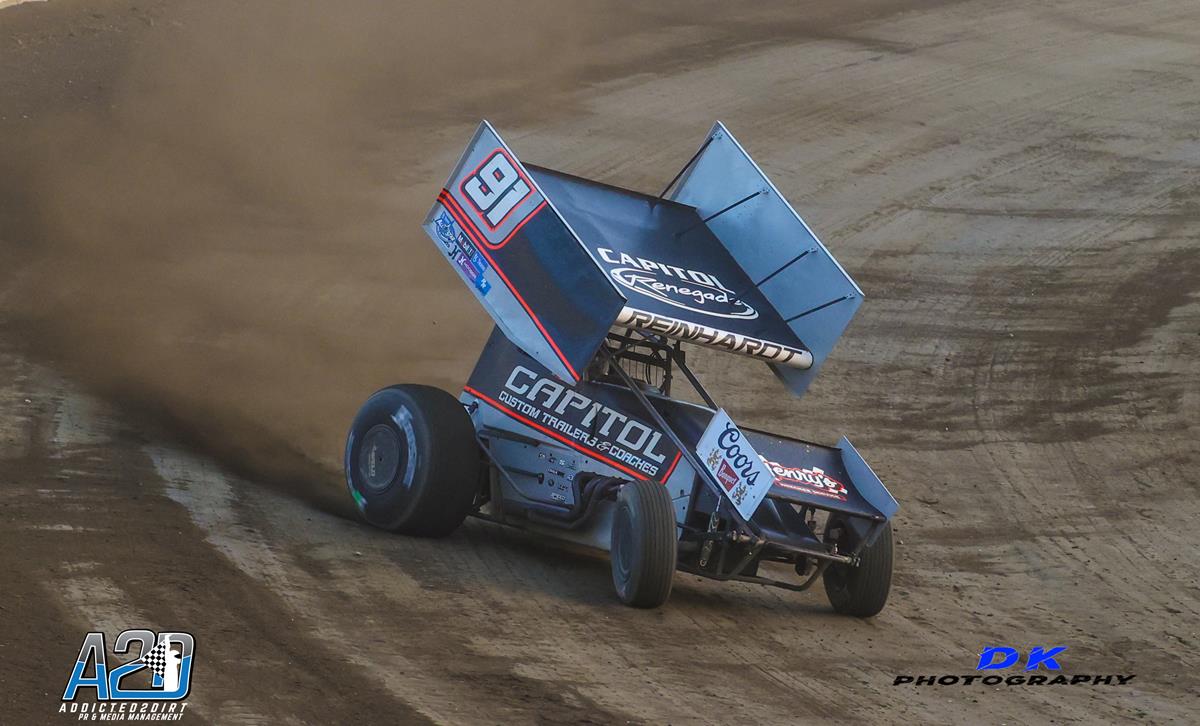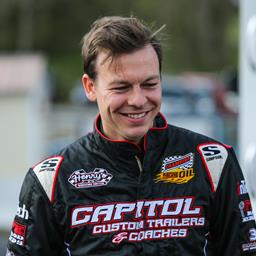 ---
Reinhardt Rolls to Solid Ohio Speedweek Weekend
Grueling 10-Race Pennsylvania Sprint Speedweek Up Next
York Haven, PA – June 20, 2023
by Addicted2Dirt PR & Media Mgmt
Photo Credit: Derick Kriner Photography
Kyle Reinhardt put together a solid weekend in Ohio by making all three shows, improving each night and culminating with his best finish of the trip on the final night.
It was a positive outcome after a rough start to the weekend.
Reinhardt's trip to Ohio on Thursday to join the All Star Circuit of Champions for the final three nights of Ohio Sprint Speedweek got off to a bumpy start when the team experienced a flat steer tire on their rig less than ninety minutes from Atomic Speedway.
The team knew that if they could get back on the road in time, prep time at the track would be minimal to none, so they made good use of the unplanned down time by prepping race tires along the roadside for that night's event. Fortunately, help arrived and got them back on the road in the nick of time.
Date: June 15, 2023
Event: Ohio Sprint Speedweek – Night 6
Track: Atomic Speedway
City, State: Chillicothe, OH
Quick Stats: 41 cars, Qualifying 4th in Group B, Heat 4th (3), A-main 12th (16)
Date: June 16, 2023
Event: Ohio Sprint Speedweek – Night 7
Track: Eldora Speedway
City, State: New Weston, OH
Quick Stats: 44 cars, Qualifying 4th in Group B, Heat 2nd (3), A-main 12th (12)
Date: June 17, 2023
Event: Ohio Sprint Speedweek – Night 8
Track: Portsmouth Raceway Park
City, State: West Portsmouth, OH
Quick Stats: 46 cars, Qualifying 1st in Group D, Heat 3rd (4), Dash 5th (4), A-main 7th (5)
Hectic Night at Atomic
Reinhardt and team unloaded at Atomic Speedway with literally minutes to prepare for their qualifying session. The tires were ready but final preparations created a fast-paced scene. Considering the laps under the clock set the table for the entire night, the attention to detail at the beginning of the night can often be the most crucial time.
The Neptune City, NJ native managed to log the 4th fastest lap in his group. He went on to a 4th place finish in his heat race to lock himself into the main event. Locking in through the heat race meant the team finally had a chance to slow down and focus on feature preparation.
Reinhardt started 16th in the 30-lap A-main. He never seemed to be free of close competition for any position throughout the race but was able to make forward progress, ultimately finishing 12th.
"I'm happy to come away with a decent night after the day we had. We will catch our breath and move on to Eldora. Hopefully tomorrow will be a less stressful day.", Reinhardt commented.
Solid Effort at The Big E
Friday afternoon, Reinhardt unloaded the Capitol Renegade, Capitol Custom Coaches & Trailers, Coors Banquet Beer, Henry's Wrecker Service No.91 at Eldora Speedway, only his third career visit to the famed facility.
The field grew from 41 cars the night before to 44 for the $12,000 to win event, which also served as the last chance for teams to get track time prior to the upcoming Eldora Million. Reinhardt timed 4th quick in his group once again, this time just 0.041 seconds out of 3rd, which would have given him a front row starting spot in his heat race.
Reinhardt started 3rd in heat number two and, after a couple attempts to get the race started, bolted into the runner up spot on the opening lap, then held on to finish 2nd.
The 30-lap A-main was another fast-paced affair. Reinhardt flirted with cracking the top ten on several occasions. In the late going, he battled an always tough Lance Dewease and managed to keep him at bay to claim another 12th place finish.
Leaving Portsmouth with Positives
Saturday night's $22,554 to win Ohio Speedweek finale attracted 46 teams to Portsmouth Raceway Park (PRP) in Southern Ohio along the Ohio River.
Reinhardt has been fast in previous visits to PRP and he showed it again Saturday night by turning a lap of 13.263, fastest in Group D qualifying. He went on to secure a spot in the Dash by finishing 3rd in his heat race and transferring to the A-main.
After starting outside row two, Reinhardt finished 5th in the dash to capture the inside row three starting spot for the main event. He had good speed early and just past the halfway point was running 5th.
Reinhardt lost a couple spots as the race entered the final ten laps, then slipped two more in the midst of some heated battles. He regained his rhythm and battled back to a 7th place finish as the race drew to a close.
"Overall, we had a solid weekend. We had decent speed in time trials and all night really. Just need to get my feature speed more consistent through the race and we will be racing for top fives.", Reinhardt said.
With less than five career starts at each of the three Ohio tracks and able to make the show every night from a field of over 40 cars, it was definitely a solid weekend for Reinhardt. Now it's back to Pennsylvania to try to carry that momentum into the annual summer tradition there.
Sponsorship opportunities are available for the 2023 season.
Kyle can be contacted via kylereinhardt46@gmail.com.
Up Next
Reinhardt plans to compete in all Pennsylvania Sprint Speedweek events. The ten race series over eleven nights kicks off Friday, June 23rd at Williams Grove Speedway.
6/23 Williams Grove Speedway
6/24 Lincoln Speedway
6/25 BAPS Motor Speedway
6/26 Lincoln Speedway
6/27 Grandview Speedway
6/28 Hagerstown Speedway
6/30 Williams Grove Speedway
7/1 Port Royal Speedway
7/2 Selinsgrove Speedway
7/3 Port Royal Speedway
Season Stats
23 races, 1 wins, 5 top 5's, 13 top 10's, 17 top 15's
Trivia Question
The answer to last week's question is… Kyle enjoys making an Old Fashioned cocktail!
Now, on to this week's question. True or False: Kyle Reinhardt is a big fan of sushi.
The answer in the next press release!
Partner Spotlight
Capitol Custom Trailers & Coaches is your premier dealer for Renegade, inTech and Bravo.
We have something for any budget and any venue. Capitol has become the leader in new innovative ideas and changes to the Renegade brand. Through our own experiences as Racers and Custom and Antique car collectors we have added many new designs to the product.
Our goal is to not only sell you the product that you want, but to see you through the entire ownership experience and then be there when you want to purchase your next. For 80 years, our business success has endured by this same formula.
When you are considering all your purchase options how many others can truthfully say that and back it up with their actions? Whether you are a Circle Track racer, Drag Racer, Road Racer, Custom or Antique Car Collector, Motorcycle Rider or a Luxury Motorcoach enthusiast, come in and visit to see for yourself what we are all about.
You will not be disappointed!
View our online showroom at CapitolRenegade.com and join the Renegade Life!
ABOUT KYLE REINHARDT
Kyle Reinhardt is a professional winged sprint car driver based in New Oxford, PA. Originally from Neptune City, NJ, Kyle has been racing since 1999 and has earned multiple victories at every level he has competed in. Since turning professional in 2019, Reinhardt has compiled two track championships and seven victories, including an All Star Circuit of Champions win.
Learn more about Kyle Reinhardt and shop merch at: KyleReinhardt.com
Follow Kyle Reinhardt's season at: A2DPR.com/latest-news
Facebook: Facebook.com/KyleReinhardtRacing
Twitter: Twitter.com/KyleReinhardt21
Instagram: Instagram.com/KyleReinhardt21
Broadcast coverage of World of Outlaw events and Williams Grove Speedway events is available at DirtVision.com
Broadcast coverage of All Star Circuit of Champions event, Port Royal Speedway events and select Lincoln Speedway events is available at FloRacing.com
Broadcast coverage of 410 sprint car events at BAPS Motor Speedway is available at SprintCarUnlimited.tv
THANKS TO OUR PARTNERS!
The entire team would like to express their appreciation to all their partners for the support during the 2023 racing season!
Capitol Renegade
Capitol Custom Coaches & Trailers
Coors Banquet Beer
Henry's Wrecker Service
Fibreworks Composites
Maxim Chassis
FK Rod Ends
Kelly Racing Fuel
Arai Americas
KSE Racing Products
InTech Trailers
Mettec
AL Driveline
DMI
Rider Racing Engines
HP Engines
Titan Wings
Simpson Race Products
---
Article Credit: Addicted2Dirt PR
Article Media
Back to News