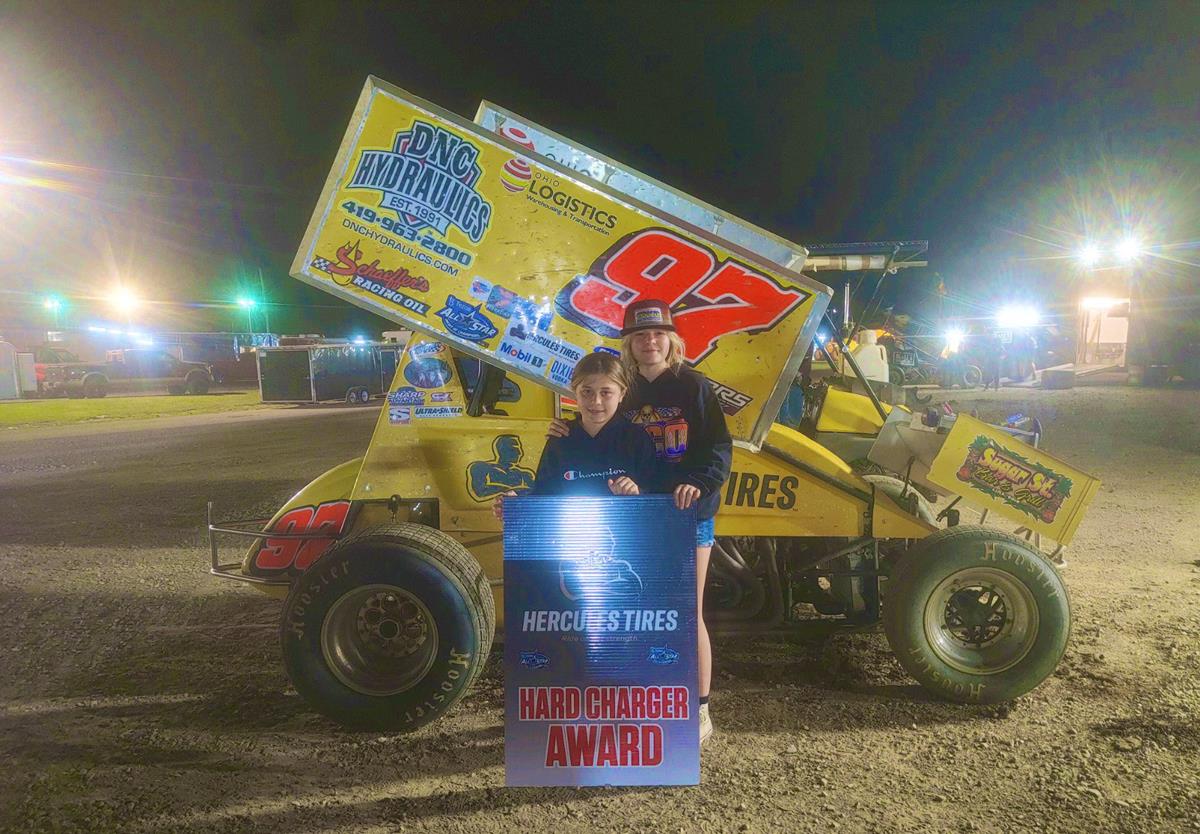 6/6/2022
Inside Line Promotions
---
Wilson Charges From 23rd to 11th During All Stars Event at Attica Raceway Park
(Photo courtesy of All Stars)
Inside Line Promotions – CHILLICOTHE, Ohio (June 6, 2022) – Greg Wilson garnered a Tezos All Star Circuit of Champions Hard Charger Award last Friday at Attica Raceway Park.
Wilson guided the Hercules Tires, Ohio Logistics and DNC Hydraulics backed Seeling Motorsports No. 97 from 23rd to 11th in the A Main at the dirt oval in Attica, Ohio.
The event was a work in progress for Wilson, who qualified 21st quickest before an eighth-place outing in a heat race relegated him toward the middle of the B Main. He rallied from 10th to third in the consolation race to transfer into the back of the main event. Wilson capped the night by gaining a dozen positions in the A Main to record his second Hard Charger Award of the season during All Stars competition.
"We were trying to get some depth to our program so we had to run some stuff a little different," he said. "We were better the other way early in the night so we have to figure that out. We started off not very good and we were deep in the B Main. I really didn't think we had a shot to make it. Andy (Potter) kept changing the car around and we got really good. That carried over to the feature. If we could clean up the early part of the night like we were early in the season I think we'll contend for a lot of wins."
The weekend concluded on Saturday at Atomic Speedway, which hosted the George Fisher Memorial Freedom 40. Wilson timed in 26th quickest and placed ninth in a heat race before hustling from 14th to fifth in the B Main, ending one spot shy of transferring into the main event.
"We passed a lot of cars, but I don't feel we were as good as we were early in the year," he said. "Andy made some changes before the races started. I gave up a tenth or two in qualifying and we were in a tough heat race. That's not an excuse. We need to be better early in the night. It was hard to make up any positions in the heat race. Andy made more changes for the B Main and we ripped through there pretty good. It was frustrating that we missed it, but I feel our car was a lot better."
Ohio Sprint Speedweek, which showcases nine All Star races in nine days, begins this Friday at Attica Raceway Park.
"Honestly, when we were kids that was our family vacation," Wilson said. "I've always thought it was awesome. It's a little stressful and I usually get wound up because I know the preparation it takes to be competitive all week. I'm really pumped because we get our other engine back which we seem to be the most competitive with."
QUICK RESULTS –
June 3 – Attica Raceway Park in Attica, Ohio – Qualifying: 21; Heat race: 8 (6); B Main: 3 (10); Feature: 11 (23).
June 4 – Atomic Speedway in Chillicothe, Ohio – Qualifying: 26; Heat race: 9 (9); B Main: 5 (14).
SEASON STATS –
20 races, 1 win, 4 top fives, 9 top 10s, 12 top 15s, 15 top 20s
UP NEXT –
OHIO SPRINT SPEEDWEEK: Friday at Attica Raceway Park in Attica, Ohio; Saturday and Sunday at Fremont Speedway in Fremont, Ohio; June 13 at Wayne County Speedway in Orrville, Ohio; June 14 at Sharon Speedway in Hartford, Ohio; June 15 at Atomic Speedway in Chillicothe, Ohio; June 16 at Waynesfield Raceway Park in Waynesfield, Ohio; June 17 at Limaland Motorsports Park in Lima, Ohio; and June 18 at Portsmouth Raceway Park in Portsmouth, Ohio, with the Tezos All Star Circuit of Champions
UPCOMING HERCULES TIRES DEALERSHIP VISITS –
TBD
MEDIA LINKS –
Website: http://www.GregWilsonRacing.com
Twitter: http://www.twitter.com/GregWilsonw20
Facebook: https://www.facebook.com/GregWilsonRacing
SPONSOR SPOTLIGHT – Kinsler Fuel Injection and All Pro Cylinder
Kinsler Fuel Injection is involved in engineering, manufacturing, sales, service, calibration, testing and modification of mechanical and electric fuel injection systems and components for all types of racing and performance. For more information, visit http://www.Kinsler.com.
All Pro Cylinder is the industry leader in small block Chevy aluminum cylinder heads, catering to the hardcore racer always looking for the perfect design for a specific application. For more information, visit http://www.AllProHeads.com.
"Greg at Kinsler has spent a lot of time helping me fine-tune my engines and Bob and Sue Williams at All Pro Cylinder treat us like family," Wilson said. "We're grateful to have partners like Kinsler Fuel Injection and All Pro Cylinder as part of our team."
Wilson would also like to thank Hercules Tires, Ohio Logistics, DNC Hydraulics, Engler Machine & Tool, Inc., Kinsler Fuel Injection, All Pro Cylinder, Magtech Ignition, Simpson Race Products, Banshee Graphics, Hepfner Racing Products, Nagy Equipment Sales, Winters Performance, Real Capz, Inter-State Truck Repair, Sandridge Customs, Sugar Street Bar & Grill, BRS Racing Shocks, Saldana Racing Products, Ultra-Shield Seats, Sharp Advantage, Smith Titanium, CJMM, Maverick's Portables, Greber Racing Components and Ti22 Performance for their continued support.
INSIDE LINE PROMOTIONS –
Inside Line Promotions specializes in affordable public relations and media management for motor sports drivers, teams, sponsors, tracks, series, events, organizations and manufacturers. ILP Founder Shawn Miller leverages professional journalism with new media technologies and social networking to improve your exposure and the return on investment for your sponsors.
To meet the media relations needs of your program by joining Team ILP, contact Shawn at 541-510-3663 or Shawn@InsideLinePromotions.com. For more information on Inside Line Promotions, visit http://www.InsideLinePromotions.com.
---
Article Credit: Inside Line Promotions
Submitted By: Shawn Miller
Back to News