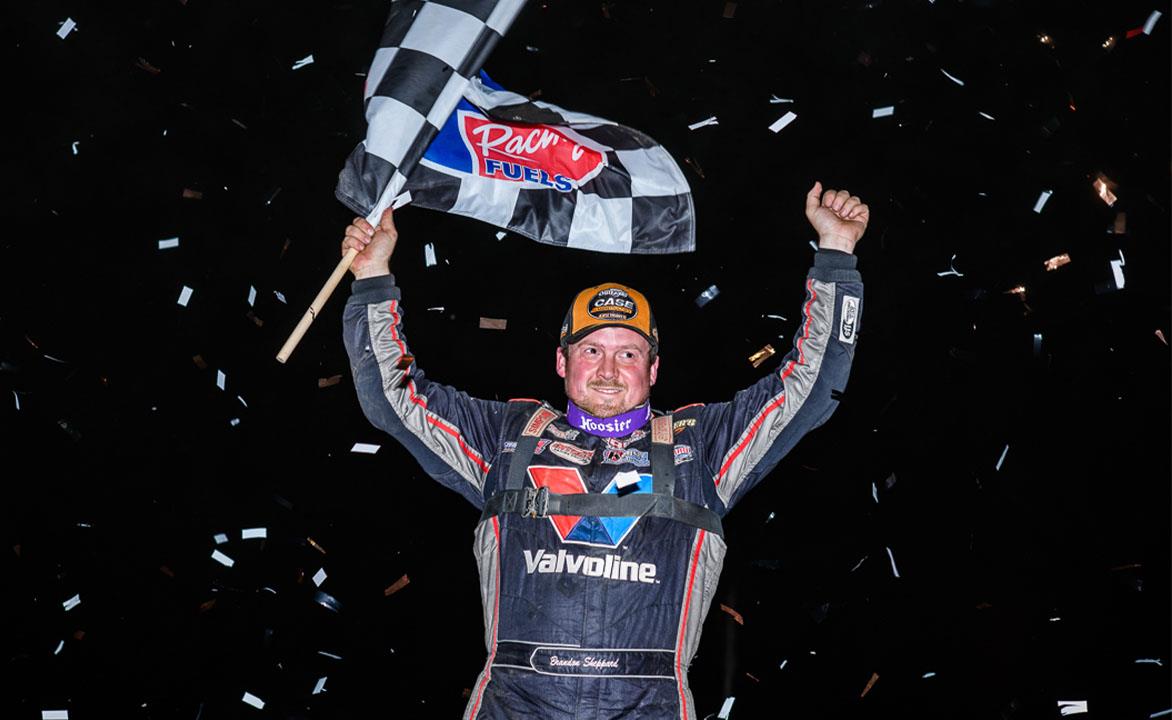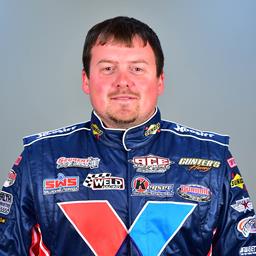 4/23/2022
Brandon Sheppard
---
BShep wins World of Outlaws finale at Atomic, pockets $15,000
Rocket1 Racing and Brandon Sheppard made history on Saturday night in World of Outlaws (WoO) CASE Late Model Series action at Atomic Speedway. Not only did the team record the $15,000 victory, but with the triumph Sheppard tied Josh Richards atop the all-time series win list with 78-career trips to Victory Lane. (Jacy Norgaard photo)
The victory was the team's first of the year in WoO action and was the fifth overall on the season with their Valvoline / Seubert Calf Ranches No. 1 Ace Metal Works / XR1 Rocket Chassis / Durham Racing Engine Super Late Model.
Additionally, the redeeming triumph came one night after Sheppard's apparent runner-up finish was nixed by a post-race tech infraction at the Ohio oval.
"Hopefully we can keep some speed going here and hopefully pass the droop rule (inspection) afterwards," Sheppard said with his sly smile. "Friday night's disqualification was just a really random deal, and if anything it just inspired us to work that much harder on Saturday, and we got the win."
In regards to tying former Rocket1 Racing pilot, Josh Richards at top the World of Outlaws' all-time win list, Sheppard admitted his accomplishments with the series have surpassed his wildest dreams.
"I would've liked to hope (to someday become the all-time winningest WoO driver), but you just never know," said Sheppard, the four-time and defending WoO champion. "When I started my dad and my grandpa gave me everything I needed to get going, and I'm just thankful for them and for Mark Richards for picking me up back in 2012."
The World of Outlaws Case Late Model Series returned to action on Friday evening at Atomic Speedway (Alma, Ohio) with Brandon Sheppard and the Rocket 1 Racing team on hand at the 4/10-mile oval for opening round of the two-day event.
With 35 Late Models entered, Sheppard claimed the Slick Woody's Quick Time Award in qualifying with a 13.310-second lap before placing first in his heat. Unable to overtake polesitter Tyler Erb late in the 40-lap feature, Sheppard crossed the line in second but was later disqualified in post-race tech for a droop rule infraction. He was credited with a 25th-place finish.
On Saturday, Brandon secured a spot in the redraw with a convincing heat race victory. Rolling off third for the feature, Sheppard stole the lead from Max Blair on lap 17 and led the remainder of the 50-lapper to capture his seventh win of the season and the $15,000 paycheck. He finished ahead of Dennis Erb Jr., Max Blair, Gordy Gundaker, and Devin Moran.
His 78th-career World of Outlaws triumph now ties him atop the list with Josh Richards.
Article Media
Back to News