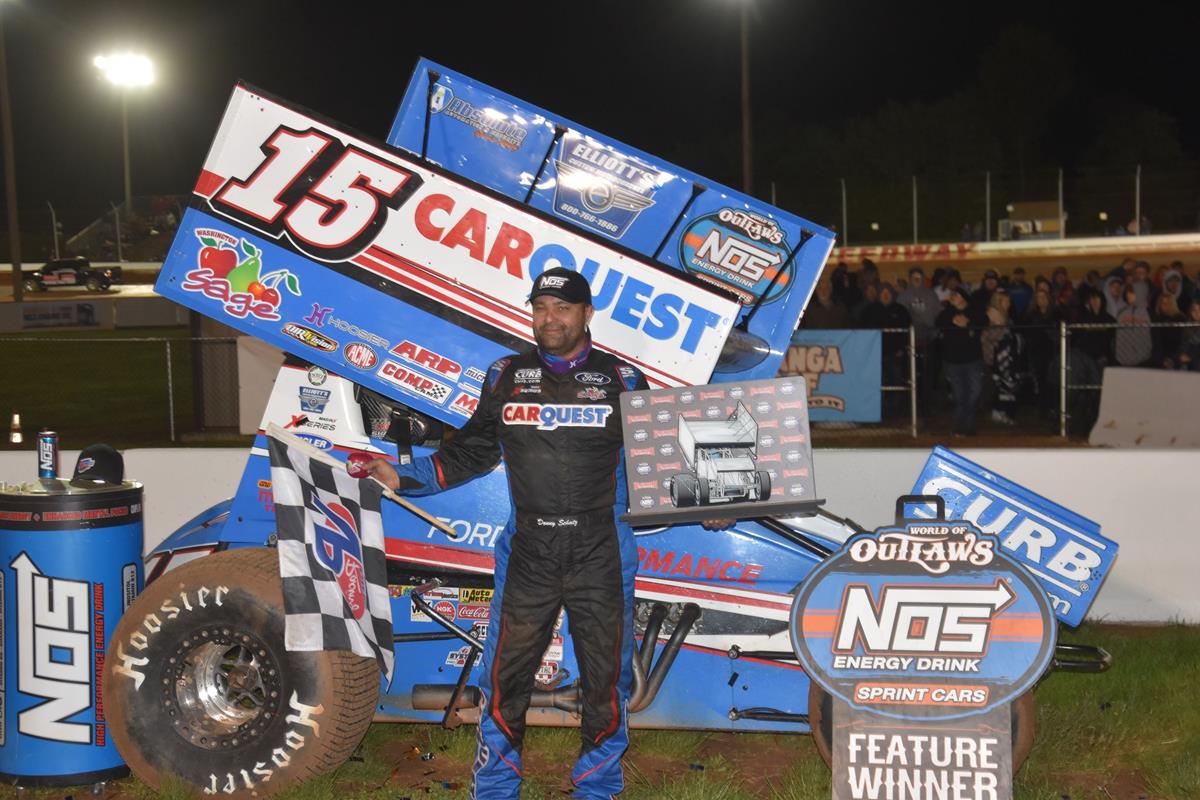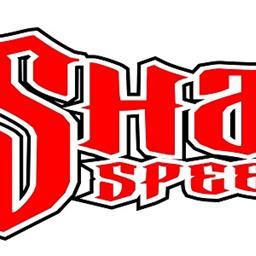 ---
1ST CAREER SHARON "410" SPRINT CAR WIN FOR DONNY SCHATZ COMES IN $10,000 WORLD OF OUTLAWS THRILLER; PRO STOCKS TO TIM BISH FOR 1ST TIME
By Mike Leone
May 20, 2023
(Hartford, OH)…After steady rain and temps in the mid 50s throughout the entire morning on Saturday, Sharon Speedway and World of Outlaws NOS Energy Drink Officials decided to press on with the show. Skies cleared by late afternoon and a packed house turned out on a chilly evening to watch thrilling action on a fast track. Celebrating with victories in the Hovis Auto & Truck Supply victory lane were Donny Schatz-World of Outlaws Sprints and Tim Bish-Gibson Insurance Agency Pro Stocks. It marked the 18th straight completed event dating back to last season.
After going winless through the first 19 events of the 2023 World of Outlaws season, the state of Ohio certainly treated Donny Schatz well this weekend. On Friday night at Attica Raceway Park, the 10-time Series Champion passed Rico Abreu coming to the white flag for the $10,000 victory. On Saturday night, Schatz passed Carson Macedo on lap 11 and held off a late charge by David Gravel as his second $10,000 victory in as many nights was his first in a "410" at Sharon. It was also a good birthday present for car owner Tony Stewart, who celebrated his 52nd birthday on Saturday.
"I could move around the racetrack during racing," explained the 45-year-old Fargo, North Dakota winner. "I could kind of go anywhere, and there's not very many nights you get a great thing like that. Last night we needed lapped traffic; tonight, I had a good race car, so hats off to my Carquest team. If you're worried about protecting, you're really just going to lose that spot. You're on attack mode. You're trying to go where your race car needs to go, where you can get the best grip. Down there in (turns) one and two, there's a spot about two-car widths off there that's kind of chunked open; there's moisture down there, and I just kept trying to hit it. Scuba (Crew Chief Steve Swenson) had my car so good that I could roll to that point then could just ease back into that Ford power."
Schatz started on the pole of the 30-lap feature, but had to make a move off turn two to pass Macedo down the backstretch on the opening lap for the lead. Fourth starting David Gravel passed Brad Sweet for third on lap four. Lapped traffic came into play on lap seven allowing Macedo to close in, while Gravel and Sweet raced side-by-side for third. It was a four-car race for the lead on lap eight.
Macedo took the top spot on lap nine with a slider in turn one. One lap later, Schatz had Gravel hot on his heels and was unable to pass Macedo, but was able to hit turns one and two perfectly on lap 11 as he raced by Macedo down the backstretch for what would be the winning move. Meanwhile, after dropping back to fourth, Sweet charged by Gravel and Macedo for second on lap 12.
By the halfway point, Schatz began to stretch out his lead, while the battle for second raged on. Gravel reclaimed second on lap 22, but found himself a straightaway back of the leader. The first caution of the night was displayed when Cale Thomas got into the frontstretch wall with 23 laps scored. When racing resumed, 11th starting Sheldon Haudenschild moved into fourth. Schatz was running the highline, while Gravel was running the bottom to perfection. The two were side-by-side on several occasions, but Schatz never relinquished the lead.
The final caution of the event was displayed with three laps to go for Dylan Cisney and Nate Dussel in turns one and two. This setup a single file restart. While Schatz took back off in the lead, Haudenschild grabbed second for one lap until Gravel regained the runner-up position one lap later. Schatz was gone by this point as the Tony Stewart Racing-owned, Carquest/Curb Records/Ford Performance took the checkered flag first by 1.320 seconds. It was the second career Sprint Car win for Schatz at Sharon, but first in nearly 15 years as he had won a $6,000 ASCS/Patriot-sanctioned "360" show on June 17, 2008.
Gravel had to settle for second. "It was a hell of a race that whole time," Gravel said. "When I got into second, I think if that caution doesn't come out, we were going to be side-by-side or winning that race. I thought for sure Donny (Schatz) was going to go to the bottom because he saw my nose in (turns) one and two on the start but he didn't. He went to the top, and once that happened I pitched the car sideways and lost two spots. Luckily our car was that good and we were able to pass those two guys back."
Haudenschild was third and earned the KSE Hard Charger award in front of his home state fans. "The track was awesome," Haudenschild said. "This place was perfect really. I don't think you could've asked for a much better track. The car was great during the feature, and we were able to drive up through there and throw sliders. I feel like not a lot of guys could throw a slider and keep rolling."
After leading laps 9-10, Macedo dropped to fourth at the finish over Rico Abreu. After running second from laps 12-21, Sweet, who continues to lead the points in search of his fifth straight Series title, faded to sixth. Spencer Bayston went 12th to seventh over Logan Schuchart, central Pennsylvania invader Danny Dietrich, and 15th starting Cole Macedo.
Gravel set fast time over the 36-car field in qualifying with a lap of 13.112. Heat winners were Gravel, Schatz, Brock Zearfoss, and Carson Macedo. Schatz also won the dash to earn the feature pole. Henry Malcuit captured the last chance B main.
It's pretty rare to see Pro Stock standout Chris Schneider get passed for the lead, but that's exactly what happened on Saturday night in the 20-lap Gibson Insurance Agency feature. Fifth starting Tim Bish passed Schneider on lap 13 and went on for his first career win at Sharon, which was worth $1,000.
"We always struggle out here a bit so I'm real excited," acknowledged the 29-year-old Ringgold, Pa. racer. "The track was definitely a curve ball. Normally it's black, slick from top-to-bottom, but tonight it was nice and racey, fast with multiple grooves. Thankfully we got this new S&S Chassis. I had to race for it, but it was a good race. Chris (Schneider) was helping me out before we came out here. At first, I didn't think I was going to catch him then the next thing I know I was beside him. I have to thank my parents for making this possible, my sponsors, and my crew guys are awesome."
An invert zero from the heat races put Schneider on the pole and he took off in the lead over Paul Davis, while Bish was up two spots after the first lap. A four-car accident at the back of the pack slowed action with two laps scored. By lap five, Schneider and Bish began to distance themselves from the field. Lapped traffic came into play on lap nine allowing Bish to zero in on the leader. It was side-by-side for the lead on lap 13 with Bish making the pass in turn four.
Bish fended off Schneider over the final caution-free laps as he took his Brocious Lumber/C&L Welding/Ringgold Tire/Barber Performance-sponsored #11B to the win by 0.579 seconds. Coleton Longwell edged out Davis as the two battled much of the race for third. Bobby Whitling dropped from his second place starting spot to fifth. Curt J. Bish went 15th to sixth over Brandon Connor, Cody Koteles, Steve D'Apolito, and Jordan Perkins. Heat winners over the 29-car field were Schneider, Whitling, and Davis, while Scott Malone won the last chance B main.
Coming up Thursday-Saturday (May 25-27) will be the World of Outlaws CASE Construction Late Models with a complete show each night. The Thursday and Friday night shows will each pay $6,000 to-win, while $25,000 will be up for grabs on Saturday night! The support divisions will be the Terry Bowser Excavating RUSH Sprint Cars on Thursday night, the HTMA/Precise Racing Products RUSH Sportsman Modifieds on Friday night, and the Whelen Econo Mods on Saturday night. Against the Wind, a Bob Segar Tribute band, will play after the races on Friday night.
Reserved tickets and advance general admission tickets are on sale through the www.worldofoutlaws.com. Tickets and pit passes will be available at the gates on race day. A limited amount of VIP fan suite seats and patio seats are available at https://www.simpletix.com/e/world-of-outlaw-late-models-may-25-27-2023-tickets-123454 Additional camping spots have been added and are available here: https://www.simpletix.com/e/woo-late-model-additional-camping-spots-tickets-134070
World of Outlaws NOS Energy Drink "410" Sprint Cars (30 laps, $10,000 to-win): 1. 15-DONNY SCHATZ[1]; 2. 2-David Gravel[4]; 3. 17-Sheldon Haudenschild[11]; 4. 41-Carson Macedo[2]; 5. 24-Rico Abreu[5]; 6. 49-Brad Sweet[3]; 7. 5-Spencer Bayston[12]; 8. 1S-Logan Schuchart[6]; 9. 48-Danny Dietrich[8]; 10. 29-Cole Macedo[15]; 11. 18-Giovanni Scelzi[9]; 12. 22-Brandon Spithaler[13]; 13. 32B-Dale Blaney[14]; 14. 1A-Jacob Allen[20]; 15. 3Z-Brock Zearfoss[7]; 16. W20-Greg Wilson[24]; 17. 20G-Noah Gass[23]; 18. 40-George Hobaugh Jr[19]; 19. 70-Henry Malcuit[21]; 20. 7S-Robbie Price[22]; 21. 5C-Dylan Cisney[17]; 22. 1-Nate Dussel[18]; 23. 49X-Cale Thomas[16]; 24. 83-James McFadden[10].
DNQ for the feature: Jacob Dykstra (5D), Lee Jacobs (81), A.J. Flick (2), Brandon Matus (13), Adam Kekich (5K), Carl Bowser (11), Bob Felmlee (6), David Kalb, Jr. (11J), Bill Rose (6), Darren Pifer (23), Brent Matus (33), Michael Bauer (46).
Gibson Insurance Agency Pro Stocks (20 laps, $1,000 to-win): 1. 11B-TIM BISH[5]; 2. 55-Chris Schneider[1]; 3. 7-Coleton Longwell[4]; 4. 3-Paul Davis[3]; 5. 7W-Bobby Whitling[2]; 6. 29-Curt J Bish[15]; 7. 55C-Brandon Connor[6]; 8. 1K-Cody Koteles[7]; 9. 84-Steve D'Apolito[9]; 10. 13J-Jordan Perkins[8]; 11. 14-Scott Stiffler[16]; 12. 84S-Josh Seippel[10]; 13. 8-Jonathan Davis[12]; 14. 22-Chase Lambert[14]; 15. 310-Dale Tuche[11]; 16. 12T-Trevor Mccann[18]; 17. 12M-Scott Malone[19]; 18. 67J-Jamie Duncan[20]; 19. 05-Ed Bolyard[13]; 20. 104-Allen Lamb[23]; 21. 21-Troy DeZarn[24]; 22. 4*-Douglas Eck[17]; 23. 26S-Dave Shagla Jr[21]; 24. 152-Kyle Corah[22].
DNQ for the feature: Aden Boozel (44B), Russ Coyne (8c), Bruce Hartzfeld (101), Hunter Exley (23HJR), Matt Bernard (7B).
Sharon Speedway is owned by the Blaney, Weller, and Kirila Families and is a 3/8-mile dirt track located on Custer-Orangeville Road in Hartford, Ohio near the intersection of Routes 7 & 305. For more information, check out the website at www.sharonspeedway.com or call 330-772-5481. Become a fan of Sharon Speedway on Facebook at www.facebook.com/sharonspeedway and follow us on Twitter at www.twitter.com/sharonspdwy.
---
Article Credit: Mike Leone
Back to News